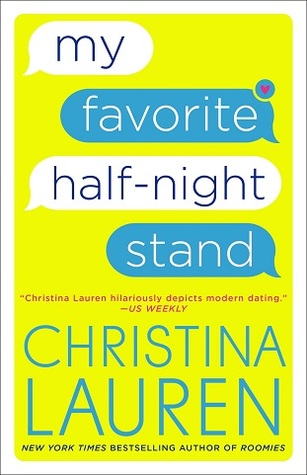 My Favorite Half Night Stand
Christina Lauren
Release: December 4, 2018
Goodreads
Amazon
ARC provided by the publisher via Netgalley
From the New York Times bestselling author that "hilariously depicts modern dating" (Us Weekly) comes a sexy romantic comedy about online dating, and its many, many fails.

With a world-famous speaker at their university, Millie Morris and her four woefully single male colleagues make a pact that they'll all find dates. Unfortunately, Millie has more success helping them make matches online than she does navigating the onslaught of lewd pics in her own feed. But when she creates a fictional name for a new account, Millie finds herself vying for the online attention of a man she sees every day in the flesh.
Review:
If the cast of The Big Bang Theory were a little less socially awkward, they might be something like Reid and Millie and their group of professor friends. However, these guys actually seem to be inspired by the cast of Stranger Things - now there's a mashup I wasn't expecting!
I love how these guys have embraced Millie as one of their own. I even love their group texts, which is really saying something because IRL I hate them with a passion. (And they're probably even cuter in the finished copy since only a few of them were in their final format in the ARC.)
I love that Millie is an expert on female serial killers. I actually wished it came up in conversation a little more often, though I realize that's a tough subject to work into a comedy. It's also an interesting reversal to make her the emotionally unavailable one, especially when she's surrounded by guys. But when she finally let her feelings out, it was painful. For me. I was that invested in the story. I love the gang, and the fact that more of their stories are set up here. (I'm dying to read more about Reid's sister!)
This is only my second Christina Lauren book - I actually read it right after I finished
Josh and Hazel
- but I definitely want to read more of them. They give so much heart and humor to these tropey stories. It's the perfect antidote to holiday stress.
Recommended for fans of: Friends to Lovers stories, Christina Lauren, Hallmark Channel movies
4
stars

Our reviews of other books by Christina Lauren:
Autoboyography
Josh and Hazel's Guide to Not Dating