Happy New Year everyone! Welcome to Goldilox and . . . well, the Eleventh List, the last of our year end posts about our favorite books by category.
Here are the books that the bloggers at Goldilox and the Three Weres are most looking forward to in 2015. Tell us your most anticipated reads in the comments.
Deadly Spells
(Prospero's War #3)
Jaye Wells
Release: February 10, 2015
Links:
Goodreads
Amazon
Synopsis:
After the gristly murder of a dirty magic coven leader, Kate Prospero and The Magical Enforcement Agency team up with the local police to find the killer. But as the infighting between covens turns ugly, an all-out war brews in the slums of Babylon.

When a tenacious reporter sticks her nose in both the investigation and Prospero's past in the covens, old ghosts resurface. The team will have to use all the weapons in their arsenal to stop the coven war and find the killer before the case brings down all their careers - and their lives.

Deadly Spells is the third novel in the Prospero's War series that started with Dirty Magic and Cursed Moon!
The Veil
(Devil's Isle #1)
Chloe Neil
Release: August 4, 2015
Links:
Goodreads
Amazon
Synopsis:
Seven years ago, the Veil that separates humanity from what lies beyond was torn apart, and New Orleans was engulfed in a supernatural war. Now, those with paranormal powers have been confined in a walled community that humans call the District. Those who live there call it Devil's Isle.

Claire Connolly is a good girl with a dangerous secret: she's a Sensitive, a human endowed with magic that seeped through the Veil. Claire knows that revealing her skills would mean being confined to Devil's Isle. Unfortunately, hiding her power has left her untrained and unfocused.

Liam Quinn knows from experience that magic makes monsters of the weak, and he has no time for a Sensitive with no control of her own strength. But when he sees Claire using her powers to save a human under attack—in full view of the French Quarter—Liam decides to bring her to Devil's Isle and the teacher she needs, even though getting her out of his way isn't the same as keeping her out of his head.

But when the Veil threatens to shatter completely, Claire and Liam must work together to stop it, or else New Orleans will burn…
Prudence
(The Custard Protocol # 1)
Gail Carriger
Release: March 17, 2015
Links:
Goodreads
Amazon
Synopsis: When Prudence Alessandra Maccon Akeldama (Rue to her friends) is given an unexpected dirigible, she does what any sensible female would under similar circumstances - names it the Spotted Crumpet and floats to India in pursuit of the perfect cup of tea. But India has more than just tea on offer. Rue stumbles upon a plot involving local dissidents, a kidnapped brigadier's wife, and some awfully familiar Scottish werewolves. Faced with a dire crisis and an embarrassing lack of bloomers, what else is a young lady of good breeding to do but turn metanatural and find out everyone's secrets, even thousand-year-old fuzzy ones?
Hit
Delilah S. Dawson
Release: April 14, 2015
Links:
Goodreads
Amazon
Synopsis:
NO ONE READS THE FINE PRINT.

The good news is that the USA is finally out of debt. The bad news is that we were bought out by Valor National Bank, and debtors are the new big game, thanks to a tricky little clause hidden deep in the fine print of a credit card application. Now, after a swift and silent takeover that leaves 9-1-1 calls going through to Valor voicemail, they're unleashing a wave of anarchy across the country.

Patsy didn't have much of a choice. When the suits showed up at her house threatening to kill her mother then and there for outstanding debt unless Patsy agreed to be an indentured assassin, what was she supposed to do? Let her own mother die?

Patsy is forced to take on a five-day mission to complete a hit list of ten names. Each name on Patsy's list has only three choices: pay the debt on the spot, agree to work as a bounty hunter, or die. And Patsy has to kill them personally, or else her mom takes a bullet of her own.

Since yarn bombing is the only rebellion in Patsy's past, she's horrified and overwhelmed, especially as she realizes that most of the ten people on her list aren't strangers. Things get even more complicated when a moment of mercy lands her with a sidekick: a hot rich kid named Wyatt whose brother is the last name on Patsy's list. The two share an intense chemistry even as every tick of the clock draws them closer to an impossible choice.

Delilah S. Dawson offers an absorbing, frightening glimpse at a reality just steps away from ours—a taut, suspenseful thriller that absolutely mesmerizes from start to finish.
Transmuted
(St. Croix Chronicles #6)
Karina Cooper
Release: January 26, 2015
Links:
Goodreads
Amazon
Synopsis: In this final installment of Cherry St. Croix's adventures, only one thing could compel the disgraced countess to return to Society—the threat of immortality.
All is not peaceful in the wake of the Midnight Menagerie's ruin. Although the Karakash Veil has been forced to flee its stronghold, the mysterious head of the criminal organization is not content to fade away.
Above the foggy drift, a priceless diamond vanishes. In the dangerous Underground, a murderous rampage demands retribution. The hunt for the mastermind behind these misdeeds sends me back to Society—and into the unforgiving embrace of the world I'd left behind.
Nothing is what it seems. Enemies, allies—and a man who struggles with a nature even devotion cannot tame. Torn between the scars of the past and fragile new beginnings, I must create balance in the world I have chosen—and with the people I have come to love. The game has changed; should the Veil achieve the immortality it craves, I will have nowhere left to run.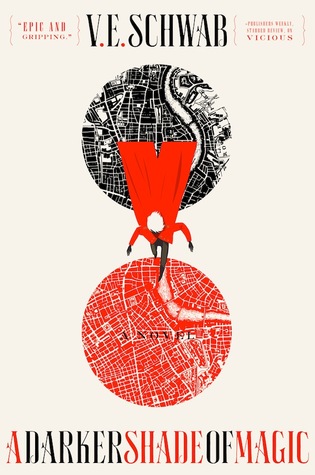 A Darker Shade of Magic
(A Darker Shade of Magic #1)
V. E. Schwab
Release: February 24, 2015
Links:
Goodreads
Amazon
Synopsis:
From V.E. Schwab, the critically acclaimed author of Vicious, comes a new universe of daring adventure, thrilling power, and parallel Londons, beginning with A Darker Shade of Magic.

Kell is one of the last Travelers—magicians with a rare, coveted ability to travel between parallel universes—as such, he can choose where he lands.

There's Grey London, dirty and boring, without any magic, ruled by a mad King George. Then there's Red London, where life and magic are revered, and the Maresh Dynasty presides over a flourishing empire. White London, ruled by whoever has murdered their way to the throne—a place where people fight to control magic, and the magic fights back, draining the city to its very bones. And once upon a time, there was Black London...but no one speaks of that now.

Officially, Kell is the Red Traveler, personal ambassador and adopted Prince of Red London, carrying the monthly correspondences between the royals of each London. Unofficially, Kell is a smuggler, servicing people willing to pay for even the smallest glimpses of a world they'll never see—a dangerous hobby, and one that has set him up for accidental treason. Fleeing into Grey London, Kell runs afoul of Delilah Bard, a cut-purse with lofty aspirations, who first robs him, then saves him from a dangerous enemy, and then forces him to spirit her to another world for a proper adventure.

But perilous magic is afoot, and treachery lurks at every turn. To save all of the worlds, Kell and Lila will first need to stay alive—and that is proving trickier than they hoped.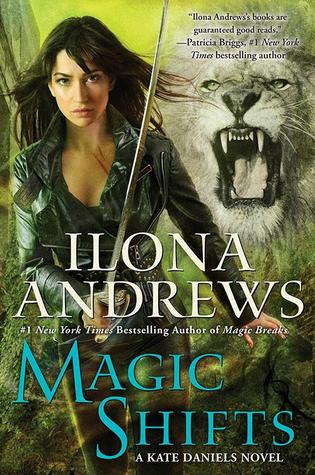 Magic Shifts
(Kate Daniels #8)
Ilona Andrews
Release: August 4, 2015
Links:
Goodreads
Amazon
I won't link the synopsis to this one because it would spoil those who haven't read the rest of the series. After what happened in the previous book, I need to know what happens next because everything has now been turned on it's head. I just need more Kate Daniels in my life period because she's awesome! I love her snark, intelligence, and overall badassness. Also, Curran. Do I need a reason to want more Curran? If you haven't read this series yet, you have plenty of time to catch up before this one comes out.
Grave Phantoms
(Roaring Twenties #3)
Jenn Bennett
Release: May 5, 2015
Links:
Goodreads
Amazon
Synopsis:
From the author of Grim Shadows and Bitter Spirits comes the new Roaring Twenties novel in the series hailed as "Boardwalk Empire meets Ghost Hunters, but so much better" (Molly Harper, national bestselling author of the Jane Jameson series).

Feisty flapper Astrid Magnusson is home from college and yearning for the one thing that's always been off limits: Bo Yeung, her notorious bootlegging brother's second-in-command. Unfortunately her dream of an easy reunion proves difficult after a violent storm sends a mysterious yacht crashing into the Magnussons' docks. What's worse, the boat disappeared a year ago, and the survivors are acting strangely…

Bo has worked with the Magnusson family for years, doing whatever is needed, including keeping his boss's younger sister out of trouble—and his hands to himself. Of course, that isn't so easy after Astrid has a haunting vision about the yacht's disappearance, plunging them into an underground world of old money and dark magic. Danger will drive them closer together, but surviving their own forbidden feelings could be the bigger risk.
The Clockwork Crown
(The Clockwork Dagger #2)
Beth Cato
Release: June 9, 2015
Links:
Goodreads
Amazon
I'm also not going to share the synopsis for this book because it would spoil the first book for those who haven't read it yet. I absolutely adored the first book in this duology. It is actually one of my favorite books of this year. It had everything! Steampunk, a fascinating magic system, trained magical healers, airships, political intrigue, interesting side characters, and gremlins! If you haven't picked up
The Clockwork Dagger
yet, you need to. Trust me. You'll love it!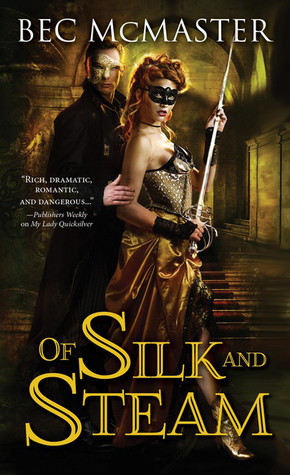 Of Silk and Steam
(London Steampunk #5)
Bec McMaster
Release: March 3, 2015
Links:
Goodreads
Amazon
Synopsis:
Enemies. Allies. Lovers.

When her beloved father was assassinated, Lady Aramina swore revenge. The man responsible is well beyond her grasp, but his dangerously seductive heir, Leo Barrons, is fair game. When Mina obtains evidence proving that Leo is illegitimate, she has the means to destroy both the killer and his son, a man who troubles her heart and tempts her body.

A woman of mystery, Mina's long driven Leo crazy with glimpses of a fiery passion that lurks beneath her icy veneer. He knows she's hiding something, and he's determined to unravel her layer by silken layer. He just doesn't expect the beautiful liar to be the key to overthrowing the corrupt prince consort… or to saving his own carefully walled-off heart.
Eighth Grave After Dark
(Charley Davidson #8)
Darynda Jones
Release: May 19, 2015
Links:
Goodreads
Amazon
Synopsis: With twelve hellhounds after her, pregnant Charley Davidson takes refuge at the only place she thinks they can't get to her: the grounds of an abandoned convent. But after months of being cooped up there, Charley is ready to pop. Both metaphorically and literally since she is now roughly the size of a beached whale. Fortunately, a new case has captured her attention, one that involves a murder on the very grounds the team has taken shelter upon. A decades-old murder of the newly-vowed nun she keeps seeing in the shadows is almost enough to pull her out of her doldrums.
Charley's been forbidden to step foot off the sacred grounds. While the angry hellhounds can't traverse the consecrated soil, they can lurk just beyond its borders. They have the entire team on edge, especially Reyes. And if Charley didn't know better, she would swear Reyes is getting sick. He grows hotter with every moment that passes, his heat scorching across her skin every time he's near, but naturally he swears he's fine.
While the team searches for clues on the Twelve, Charley just wants answers and is powerless to get them. But the mass of friends they've accrued helps. They convince her even more that everyone in her recent life has somehow been drawn to her, as though they were a part of a bigger picture all along. But the good feelings don't last for long because Charley is about to get the surprise of her crazy, mixed-up, supernatural life….
The Ruby Circle
(Bloodlines #6)
Richelle Mead
Release: February 10, 2015
Links:
Goodreads
Amazon
Synopsis: The epic conclusion to Richelle Mead's New York Times bestselling Bloodlines series is finally here...
Sydney Sage is an Alchemist, one of a group of humans who dabble in magic and serve to bridge the worlds of humans and vampires. They protect vampire secrets—and human lives.
After their secret romance is exposed, Sydney and Adrian find themselves facing the wrath of both the Alchemists and the Moroi in this electrifying conclusion to Richelle Mead's New York Times bestselling Bloodlines series. When the life of someone they both love is put on the line, Sydney risks everything to hunt down a deadly former nemesis. Meanwhile, Adrian becomes enmeshed in a puzzle that could hold the key to a shocking secret about spirit magic, a secret that could shake the entire Moroi world.
Burned (Fever #7)
Karen Marie Moning
Release: January 20, 2015
Links:
Goodreads
Amazon
Synopsis: It's easy to walk away from lies. Power is another thing.
MacKayla Lane would do anything to save the home she loves. A gifted sidhe-seer, she's already fought and defeated the deadly Sinsar Dubh—an ancient book of terrible evil—yet its hold on her has never been stronger.
When the wall that protected humans from the seductive, insatiable Fae was destroyed on Halloween, long-imprisoned immortals ravaged the planet. Now Dublin is a war zone with factions battling for control. As the city heats up and the ice left by the Hoar Frost King melts, tempers flare, passions run red-hot, and dangerous lines get crossed. Seelie and Unseelie vie for power against nine ancient immortals who have governed Dublin for millennia; a rival band of sidhe-seers invades the city, determined to claim it for their own; Mac's former protégé and best friend, Dani "Mega" O'Malley, is now her fierce enemy; and even more urgent, Highland druid Christian MacKeltar has been captured by the Crimson Hag and is being driven deeper into Unseelie madness with each passing day. The only one Mac can depend on is the powerful, dangerous immortal Jericho Barrons, but even their fiery bond is tested by betrayal.
It's a world where staying alive is a constant struggle, the line between good and evil gets blurred, and every alliance comes at a price. In an epic battle against dark forces, Mac must decide who she can trust, and what her survival is ultimately worth.
Menagerie (Menagerie #1)
by Rachel Vincent
Release: September 29, 2015
Synopsis: From New York Times bestselling author Rachel Vincent comes a richly imagined, provocative new series set in the dark mythology of the Menagerie…
When Delilah Marlow visits a famous traveling carnival, Metzger's Menagerie, she is an ordinary woman in a not-quite-ordinary world. But under the macabre circus black-top, she discovers a fierce, sharp-clawed creature lurking just beneath her human veneer. Captured and put on exhibition, Delilah in her black swan burlesque costume is stripped of her worldly possessions, including her own name, as she's forced to "perform" in town after town.
But there is breathtaking beauty behind the seamy and grotesque reality of the carnival. Gallagher, her handler, is as kind as he is cryptic and strong. The other "attractions"—mermaids, minotaurs, gryphons and kelpies—are strange, yes, but they share a bond forged by the brutal realities of captivity. And as Delilah struggles for her freedom, and for her fellow menagerie, she'll discover a strength and a purpose she never knew existed.
Renowned author Rachel Vincent weaves an intoxicating blend of carnival magic and startling humanity in this intricately woven and powerful tale.
Bound By Flames (Night Prince #3)
Jeaniene Frost
Release: January 27, 2015
Links:
Goodreads
Amazon
Synopsis: Play with fire, pay the price.
Leila's years on the carnie circuit were certainly an education. What she didn't learn: how to be a vampire, or how to be married to the most famous vampire of them all. Adjusting to both has Leila teetering on a knife edge between passion and peril, and now the real danger is about to begin…
Vlad must battle with a centuries-old enemy whose reach stretches across continents and whose strength equals his own. It isn't like Vlad to feel fear, but he does…for Leila, because his enemy knows she is Vlad's greatest weakness. As friend and foe alike align against him—and his overprotectiveness drives Leila away—Vlad's love for his new bride could be the very thing that dooms them both…