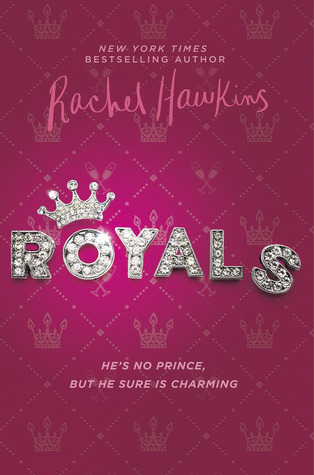 Royals
(Royals #1)
Rachel Hawkins
Release: May 1, 2018
Goodreads
Amazon
ARC provided by the publisher via First to Read
Meet Daisy Winters. She's an offbeat sixteen-year-old Floridian with mermaid-red hair; a part time job at a bootleg Walmart, and a perfect older sister who's nearly engaged to the Crown Prince of Scotland. Daisy has no desire to live in the spotlight, but relentless tabloid attention forces her to join Ellie at the relative seclusion of the castle across the pond.

While the dashing young Miles has been appointed to teach Daisy the ropes of being regal, the prince's roguish younger brother kicks up scandal wherever he goes, and tries his best to take Daisy along for the ride. The crown–and the intriguing Miles–might be trying to make Daisy into a lady . . . but Daisy may just rewrite the royal rulebook to suit herself.
Review:
Royals
probably isn't the princess romance you're expecting. The beautiful blonde American has already met her prince. As the Royal Wedding approaches, her seventeen year old sister finds herself in the tabloids. She's whisked off to Scotland for damage control but winds up causing even more Royal drama. The handsome prince has a trouble magnet younger brother who keeps dragging Daisy in to the spotlight with him.
I enjoyed the slow burn romance and Daisy's fish out of water moments gave me some major Pretty Woman vibes. The polo match, the giant hats, even the BFF who comes to visit. She has plenty of other classic rom com moments that make
Royals
lots of fun (Hello tropey goodness!) but I still think she's just like Vivian. Well, minus the whole hooker thing. If Julia Roberts is your perfect fairy tale princess, you'll love
Royals.