RTFB is a feature where we push our favorite reads that just aren't getting enough attention, or in some cases where we can't write a normal review because we just want to fangirl squee.
We're also opening it up to anyone who would like to guest post. Do you have a book that you just LURVED but feel like it's not getting the play it deserves? Email us to let us know and we'd be THRILLED to have you post about it here! Especially if its something we haven't reviewed yet - that's even better (but not necessary!)
If you're interested email goldiloxandthethreeweres@gmail.com
Read This F@!%ing Book 61:
The Forbidden Hearts series by Alisha Rai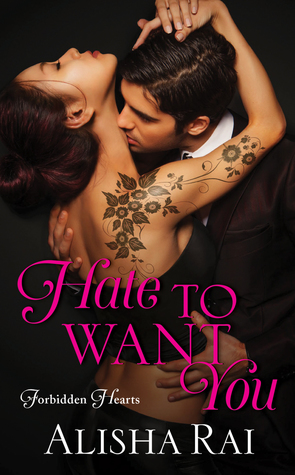 Last month I wrote a
discussion post
about how badly I failed to read diversely in 2017. And a lot of our readers seemed to be in the same boat. The Forbidden Hearts series by Alisha Rai is incredibly diverse - two of the main characters are half Japanese, one heroine is a bisexual Muslim. But that's not the reason I'm telling you to read these books. I really just want to share this soap-y, trope-y goodness with everyone.
Soap-y Family Drama
The series focuses on siblings from two families, the Kanes and the Chandlers, who grew up together. Their grandfathers were best friends who founded a grocery store chain together. About ten years before the series starts, the families had a falling out. The oldest of the Kane siblings has died and soon after, the others start returning to their hometown in Upstate New York. As the families start to reconnect, secrets are revealed.

Small town romances are my catnip anyway, but add in the twists of the family drama and it gets even better. The series is complete and perfect for binging because the stories are all intertwined. (That means you do have to read them in order.)
Trope-y Tropiness
It seems like Rai wanted to see if she could use every single romance trope in the same series. Forbidden Hearts has them all. Enemies to Lovers, Friends to Lovers, Second Chance, Secret Identity, Age Gap, Forced Proximity. I had a great time trying to spot them all as I was reading. Is Hunky Chef a trope? I like that one!

And "tropiness" is not a bad thing, though it's probably not a real word either. Layering them all produces a twisty story that combines familiar elements in new ways.
They Have Issues
The series also tackles some issues that you don't often find in Romance. The heroine in Hate to Want You battles depression. In Wrong to Need You we meet the heroine Sadia's sisters and see the different ways they were shaped by their traditional upbringing. Some of them wear hijabs and some don't. Some, including Sadia, struggle with their parents' expectations. All three books mention the Kanes' grandfather and his time in a Japanese internment camp. (One thing that was interesting to me was how Sadia handled discussing all of these issues with her six year old son.) The heroine in Hurts to Love You moonlights as a ride share driver and talks about the inequities and the dangers in that system.

None of these things take up much space on the page, but they all make the characters feel more real and relatable. And they add to that diversity I was talking about earlier, which so many of us are looking for. But even if you're not (though I don't know why you wouldn't be) I'm sure you're going to love these books. They're so good!
Have you read this series? Did we persuade you to add it to your TBR mountain? Let us know in the comments below!
ICYMI, I'm giving away a signed copy of book three in the series, Hurts to Love You. Check out Friday's KissCon recap post!