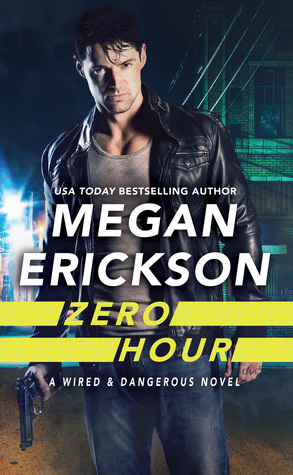 Zero Hour
(Wired & Dangerous #1)
Megan Erickson
Release: January 30, 2018
Goodreads
Amazon
ARC provided by the publisher via Netgalley
Hacker extraordinaire Roarke Brennan lives each hour - each breath - to avenge his brother's murder. His first move: put together a team of the best coders he knows. They're all brilliant, specialized, and every one an epic pain in his ass. Only now Wren Lee wants in too, threatening to upset their delicate balance. The girl Roarke never allowed himself to want is all grown up with sexy confidence and a dark past ... and she's the wild card he can't control.

Roarke might still think she's a kid, but Wren's been to hell and back. Nothing and nobody can stop her - especially the tatted-up, cocky-as-all-hell hacker. But when years of longing and chemistry collide, Wren and Roarke discover that revenge may be a dish best served blazing hot.
Review:
Zero Hour
has all of the action and excitement I love in a romantic suspense series. But it's also a little bit different than most of the ones I've read since the hackers are kind of an ad hoc group, rather than a full time team. They all have some shared history, though much of it's just allusion at this point. I wondered at times if this is a spin off from a previous series that introduced some of the characters.
Is "reunited high school crushes" a real romance trope? Even if it's not, I loved Wren and Roarke together. I love that she's just as smart and capable as the guys in the group, even if it took Roarke a little while to realize it. And I loved the fact that the first time he touched her he said, "Is this OK?" (I've been having issues with consent in my PNRs lately. More on that in a future post.)
The one thing that bugged me about Wren, which I admit is minor, is her hair. I love lavender hair (I mean, have you seen Amanda Bonilla's Instagram pics?) but there was a lot of buzz last summer about what's wrong with the "hair streaks indicate a rebellious Asian girl" thing (Wren's Korean-American) and I couldn't help thinking about that even though it was her whole head, not actually streaks. Her full sleeve tattoos alone would have conveyed the same thing without a racially-specific cliche. And then there's the fact that she kept wearing red dresses which, while great for her skin tone, would clash with her hair.
So TL;DR I love Wren but hate her hair. There's also a big reveal that I saw coming pretty early on, even though the characters were surprised.
I loved the ensemble cast, though not much is revealed about most of them yet. I would have liked a little more explanation about how some of these computer nerds learned spy craft, but I hope that some of that will come later. Erickson is definitely setting up a series. She's introduced enough characters to carry three or four books so far, as well as an enemy that will carry over at least in to the next book. And I'm good with all that because I'm so interested in their world. I'll definitely be watching for book two!
Recommended for fans of: Black Knights Inc.
4 stars
My reviews of other books by Megan Erickson:
Blood Guard