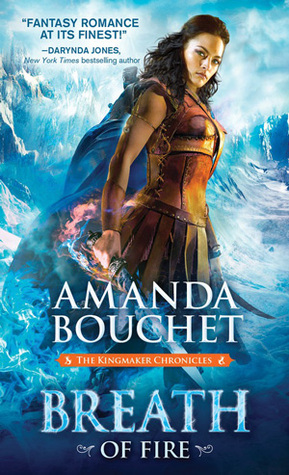 Breath of Fire
(Kingmaker Chronicles #2)
Amanda Bouchet
Release: January 3, 2017
Goodreads
Amazon
SHE'S DESTINED TO DESTROY THE WORLD...
"Cat" Catalia Fisa has been running from her destiny since she could crawl. But now, her newfound loved ones are caught between the shadow of Cat's tortured past and the threat of her world-shattering future. So what's a girl to do when she knows it's her fate to be the harbinger of doom? Everything in her power.

BUT NOT IF SHE CAN HELP IT
Griffin knows Cat is destined to change the world-for the better. As the realms are descending into all-out war, Cat and Griffin must embrace their fate together. Gods willing, they will emerge side-by-side in the heart of their future kingdom...or not at all.
Review:
Breath of Fire
opens a few months after
A Promise of Fire
with some really intense scenes, both emotionally and physically. But I felt like that intensity devolved into Cat and Griffin acting like horny teenagers any time they weren't in battle. Even though there's sort of an explanation for it by the end, I felt like the author tried to fit three books worth of sexy time into this one. Maybe some people thought there wasn't enough in book one and she overcompensated?
Despite that, there are still lots of things I like about
Breath of Fire
. It reveals some new aspects of Cat's magic, which I always find interesting. I love the supporting cast, and Cat really makes the case for the Beta Team being her family now. And my favorite thing is definitely the gladiatorial games in the second half of the book. Part of me would have liked the whole story to be set to there, but that would really emphasize the parallels to the Kate Daniels series, and probably not in a good way.
The Greek myth influence is much more prominent in this book, with a quest for items from the gods, a labyrinth and familiar monsters. In the first book in the series, I liked the fact that the familiar mythology made it easy to follow. But now I feel like the gods are way too involved in the story. Cat almost completely lacks agency since a prophesy determines her course and her friends convince her to just accept her destiny. She decides to trust the gods and just go along with whatever happens. Just like in the first book when she was kidnapped, she seems to use the circumstances as an excuse not to be responsible for her own actions. And it's hard to root for a hero whose success is not their own.
This is a story with lots of action, of both the sword and the sexy variety, which is something I usually love. But it's also one of those books where the more time I spend thinking about it, the more things I find that bother me. Like the fact that the big surprise at the end was not a surprise at all. Still, I'm invested in this world and the characters and I want to see what happens next. I'll definitely be checking out book three this fall.
Recommended for fans of: Kate Daniels, Greek mythology
ARC provided by the publisher via Netgalley
3
stars
My reviews of other books in this series:
A Promise of Fire