Welcome to the first ever
Superweek
at Goldilox and the Three Weres, an entire week devoted to superheroes, supervillains and superpowers.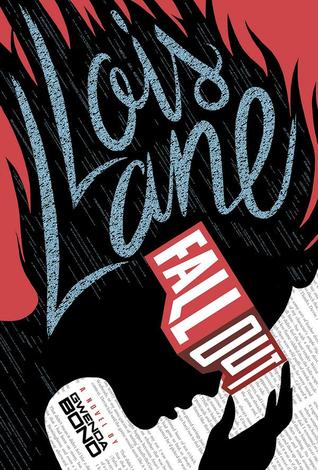 Fallout
(Lois Lane #1)
Gwenda Bond
Release: May 1, 2015
Goodreads
Amazon
Lois Lane is starting a new life in Metropolis. An Army brat, Lois has lived all over—and seen all kinds of things. (Some of them defy explanation, like the near-disaster she witnessed in Kansas in the middle of one night.) But now her family is putting down roots in the big city, and Lois is determined to fit in. Stay quiet. Fly straight. As soon as she steps into her new high school, though, she can see it won't be that easy. A group known as the Warheads is making life miserable for another girl at school. They're messing with her mind, somehow, via the high-tech immersive videogame they all play. Not cool. Armed with her wit and her new snazzy job as a reporter, Lois has her sights set on solving this mystery. But sometimes it's all a bit much. Thank goodness for her maybe-more-than-a friend, a guy she knows only by his screenname, SmallvilleGuy.
Review:
We've seen a lot of superhero comics reimagined on TV recently, but
Fallout
is one of the first book adaptations I've seen. What interested me was that it's not a retelling of Superman's story, at least not primarily. That's something we've seen before. Instead, Lois Lane takes center stage and it turns out she's a smart, sassy heroine who doesn't need any superpowers to save the day.
On her first day at her new school, Lois overhears a girl complaining to the principal about being harassed by a group of students. When the principal refuses to help, Lois has her first news story. In order to investigate, she has to enter the virtual reality world of the game where the harassment began. The holoset game technology is something that could exist in the near future, but adds a little bit of sci-fi to the story. What Lois discovers is much more than bullying, and she'll need help from all of her friends to uncover the truth. I really liked the supporting cast, Lois's co-workers at the Daily Scoop. I think they're all new characters, though I keep looking for more familiar ones.
Fallout
actually feels a lot like the Supergirl TV show to me. Not just because some of the characters overlap, but because it has a similar tone. Teen Lois shares some of Kara's youthful naivety, as well as her desire to help others even when it's not in her own best interest. Her tenacity as a journalist also reminds me of Cat Grant, which is funny since the show makes her Cat's nemesis.
It's actually Supergirl's cousin who appears in the book though. Bond's portrayal of Clark Kent, who is never named, is really interesting to me. One night, driving through Kansas, Lois spotted something unusual in a field. She got out of the car with her father to investigate and they were nearly crushed by falling rocks. As they fled, she thought she thought she saw someone flying. Later, Lois posted about her experience on an X-Files type message board, which is where she met SmallvilleGuy. He confirmed her story, but can't tell her his real name even though the two have become friends online.
I had to keep reminding myself that he'll grow up to be Superman and he's a good guy, which he seems to be since he helps Lois with her research. But it bothered me a little bit that Lois had so much faith in SmallvilleGuy when she was investigating stalking and cyber-bullying. I'm curious about how far the characters' relationship will develop in this series. Will Clark move to Metropolis to be with Lois? It's potentially an interesting twist on their story.
I like the way Lois, a character who first appeared more than fifty years ago, adapts so well to the twenty-first century. I've read a little bit about her history recently and it seems like Lois has been a victim of misogynistic times, and perhaps a misogynistic industry, for a long time. I think she deserves to be remembered as this determined young woman Gwenda Bond created and not just as Superman's girlfriend. I'm looking forward to more adventures with this updated Lois.
Recommended for fans of: online gaming, re-tellings, Supergirl on CBS