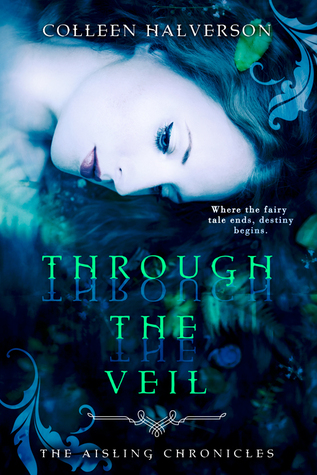 Through the Veil
(The Aisling Chronicles #1)
Colleen Halverson
Release: February 22, 2016
Goodreads
Amazon
Elizabeth Tanner is no Tinkerbell, and her life is no fairy tale. Broke and drowning in student loans, the one thing she wants more than anything is a scholarship from the Trinity Foundation. But after the ancient Irish text she's studying turns out to be more than just a book, she becomes their prisoner instead. And when Trinity reveals Elizabeth is half-Fae, she finds herself at the center of a plot to save the magical races of Ireland from a brutal civil war.

As Commander of Trinity's elite warriors, Finn O'Connell isn't used to having his authority challenged. He doesn't know whether to punish or protect the infuriating young woman in his custody. When he discovers the Dark Fae want to use Elizabeth's abilities to control the source of all power in the universe, he'll risk everything to help her.

At the mercy of Trinity and enslaved to the Dark Fae, Elizabeth finds herself alone on the wrong side of an Irish myth thousands of years in the making. Refusing to be a pawn in their game, Elizabeth has to fight her way back to the man she loves, but to do so, she must wage her own war against the magic that binds her.
Review:
Elizabeth Tanner begins her journey in the library, studying an ancient text about the Fae. She's started to see strange things in the book, like images moving, and words changing from one viewing to the next. But she doesn't really think anything of it until a dragon comes out of the book and attacks her professor. In the chaos, the book is stolen by a man who vanishes into thin air.
Elizabeth then finds herself at the Trinity Foundation, which she thought was a charitable organization until she realizes that she's surrounded by warriors with magical weapons and lots of secrets. Finn, their leader, gives off a Barrons sort of vibe at first, equal parts attractive and intimidating, though Elizabeth comes to see him differently by the end. But Finn's Trinity headquarters in just one stop on a journey that will eventually lead Elizabeth into Faery where the magic she inherited from her mother, who may not be dead after all, puts her in the middle of a war.
Halverson's Faery features a few of the expected supernatural creatures - I was especially interested in the way she portrayed vampires. But most of the monsters have human faces. Elizabeth finds herself with few allies, and all of those are prisoners just like she is. Even Finn, who wants to help her, is constrained by the rules of the Trinity. Elizabeth must learn to be her own champion in this strange and brutal new world which reminded at times of the demon realm in Diana Rowland's
Kara Gillian
series.
I was completely sucked in to
Through the Veil
- I finished it at 3:30 A.M. which is something I hardly ever do anymore. But so much happens in this book, I feel like anything I say will be a spoiler. It's a fairy tale, but the dark kind where the princess gets locked in a tower and no one gets a HEA. But I'm rooting for Elizabeth and I'm glad that there's more to her story, even though so much has happened already. I'm looking forward to the next book.
Recommended for fans of: The Shadow Reader series by Sandy Williams and Allison Pang's Abby Sinclair series
ARC provided by the publisher via Netgalley