I've had a great reading year, but no matter how many hours I read I can't get to all of the books I want to. So I'm going to do something a bit different for this list. I want to highlight the books that I had every intention of reading but I just didn't have enough time to do so. I seriously need a timeturner. That's the only way I could ever read all of the books I want to. Since this list is different, I haven't formed opinions on each of these books so I'll just post the synopsis for each book. They are arranged in no particular order. Let me know what book(s) you wanted to get to but weren't able to down in the comments.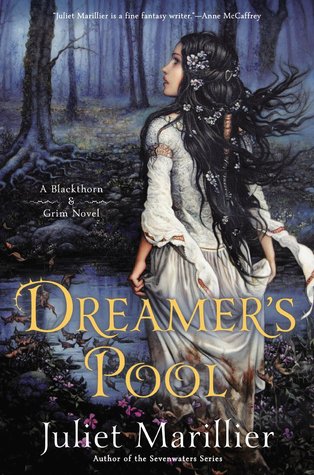 Dreamer's Pool
(Blackthorn and Grim #1)
by Juliet Marillier
Links:
Goodreads
Amazon
Synopsis:
Award-winning author Juliet Marillier "weaves magic, mythology, and folklore into every sentence on the page" (The Book Smugglers). Now she begins an all-new and enchanting series that will transport readers to a magical vision of ancient Ireland...
In exchange for help escaping her long and wrongful imprisonment, embittered magical healer Blackthorn has vowed to set aside her bid for vengeance against the man who destroyed all that she once held dear. Followed by a former prison mate, a silent hulk of a man named Grim, she travels north to Dalriada. There she'll live on the fringe of a mysterious forest, duty bound for seven years to assist anyone who asks for her help.

Oran, crown prince of Dalriada, has waited anxiously for the arrival of his future bride, Lady Flidais. He knows her only from a portrait and sweetly poetic correspondence that have convinced him Flidais is his destined true love. But Oran discovers letters can lie. For although his intended exactly resembles her portrait, her brutality upon arrival proves she is nothing like the sensitive woman of the letters.

With the strategic marriage imminent, Oran sees no way out of his dilemma. Word has spread that Blackthorn possesses a remarkable gift for solving knotty problems, so the prince asks her for help. To save Oran from his treacherous nuptials, Blackthorn and Grim will need all their resources: courage, ingenuity, leaps of deduction, and more than a little magic.
Clariel
(Abhorsen #4)
by Garth Nix
Links:
Goodreads
Amazon
Synopsis:
Sixteen-year-old Clariel is not adjusting well to her new life in the city of Belisaere, the capital of the Old Kingdom. She misses roaming freely within the forests of Estwael, and she feels trapped within the stone city walls. And in
Belisaere she is forced to follow the plans, plots and demands of everyone, from her parents to her maid, to the sinister Guildmaster Kilp. Clariel can see her freedom slipping away. It seems too that the city itself is descending into chaos, as the ancient rules binding Abhorsen, King and Clayr appear to be disintegrating.

With the discovery of a dangerous Free Magic creature loose in the city, Clariel is given the chance both to prove her worth and make her escape. But events spin rapidly out of control. Clariel finds herself more trapped than ever, until help comes from an unlikely source. But the help comes at a terrible cost. Clariel must question the motivations and secret hearts of everyone around her - and it is herself she must question most of all.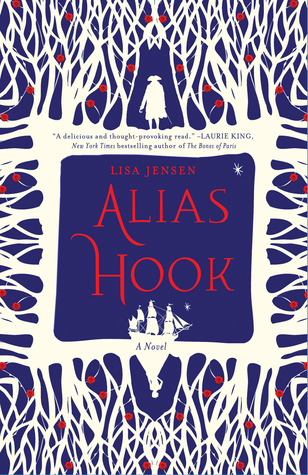 Alias Hook
by Lisa Jensen
Links:
Goodreads
Amazon
Synopsis:
"Every child knows how the story ends. The wicked pirate captain is flung
overboard, caught in the jaws of the monster crocodile who drags him down to a watery grave. But it was not yet my time to die. It's my fate to be trapped here forever, in a nightmare of childhood fancy, with that infernal, eternal boy."

Meet Captain James Benjamin Hook, a witty, educated Restoration-era privateer cursed to play villain to a pack of malicious little boys in a pointless war that never ends. But everything changes when Stella Parrish, a forbidden grown woman, dreams her way to the Neverland in defiance of Pan's rules. From the glamour of the Fairy Revels, to the secret ceremonies of the First Tribes, to the mysterious underwater temple beneath the Mermaid Lagoon, the magical forces of the Neverland open up for Stella as they never have for Hook. And in the pirate captain himself, she begins to see someone far more complex than the storybook villain.

With Stella's knowledge of folk and fairy tales, she might be Hook's last chance for redemption and release if they can break his curse before Pan and his warrior boys hunt her down and drag Hook back to their neverending game. Alias Hook by Lisa Jensen is a beautifully and romantically written adult fairy tale.
House Immortal
(House Immortal #1)
by Devon Monk
Links:
Goodreads
Amazon
Synopsis:
One hundred years ago, eleven powerful ruling Houses consolidated all of the world's resources and authority into their own grasping hands. Only one power wasn't placed under the command of a single House: the control over the immortal galvanized....

Matilda Case isn't like most folk. In fact, she's unique in the world, the crowning achievement of her father's experiments, a girl pieced together from bits. Or so she believes, until Abraham Seventh shows up at her door, stitched with life thread just like her and insisting that enemies are coming to kill them all.

Tilly is one of thirteen incredible creations known as the galvanized, stitched together beings immortal and unfathomably strong. For a century, each House has fought for control over the galvanized. Now the Houses are also tangled in a deadly struggle for dominion over death—and Tilly and her kind hold the key to unlocking eternity

The secrets that Tilly must fight to protect are hidden within the very seams of her being. And to get the secrets, her enemies are willing to tear her apart piece by piece.…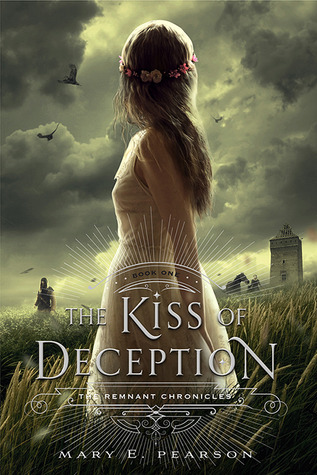 The Kiss of Deception
(The Remnant Chronicles #1)
by Mary E. Pearson
Links:
Goodreads
Amazon
Synopsis:
A princess must find her place in a reborn world.

She flees on her wedding day.

She steals ancient documents from the Chancellor's secret collection.
She is pursued by bounty hunters sent by her own father.
She is Princess Lia, seventeen, First Daughter of the House of Morrighan.

The Kingdom of Morrighan is steeped in tradition and the stories of a bygone world, but some traditions Lia can't abide. Like having to marry someone she's never met to secure a political alliance.

Fed up and ready for a new life, Lia flees to a distant village on the morning of her wedding. She settles in among the common folk, intrigued when two mysterious and handsome strangers arrive—and unaware that one is the jilted prince and the other an assassin sent to kill her. Deceptions swirl and Lia finds herself on the brink of unlocking perilous secrets—secrets that may unravel her world—even as she feels herself falling in love.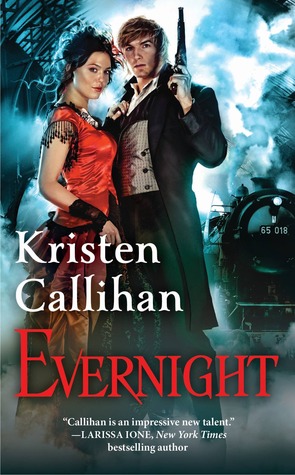 Evernight (Darkest London #5)
by Kristen Callihan
Links:
Goodreads
Amazon
Synopsis:
Once the night comes . . .

Will Thorne is living a nightmare, his sanity slowly being drained away by a force he can't control. His talents have made him the perfect assassin for hire. But as he loses his grip on reality, there is no calming him—until he finds his next target: the mysterious Holly Evernight.

Love must cast aside the shadows . . .

Holly cannot fathom who would put a contract on her life, yet the moment she touches Will, the connection between them is elemental, undeniable—and she's the only one who can tame his bouts of madness. But other assassins are coming for Holly. Will must transform from killer to protector and find the man who wants Holly dead . . . or his only chance for redemption will be lost.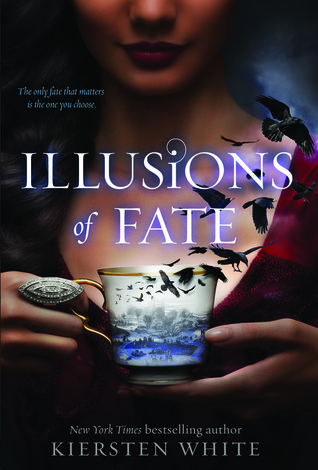 Illusions of Fate
by Kiersten White
Links:
Goodreads
Amazon
Synopsis:
Downton Abbey meets Cassandra Clare in this lush, romantic fantasy from New York Times bestselling author Kiersten White.
"I did my best to keep you from crossing paths with this world. And I shall do my best to protect you now that you have."
Jessamin has been an outcast since she moved from her island home of Melei to the dreary country of Albion. Everything changes when she meets Finn, a gorgeous, enigmatic young lord who introduces her to the secret world of Albion's nobility, a world that has everything Jessamin doesn't—power, money, status…and magic. But Finn has secrets of his own, dangerous secrets that the vicious Lord Downpike will do anything to possess. Unless Jessamin, armed only with her wits and her determination, can stop him.

Kiersten White captured readers' hearts with her New York Times bestselling Paranormalcy trilogy and its effortless mix of magic and real-world teenage humor. She returns to that winning combination of wit, charm, and enchantment in Illusions of Fate, a sparkling and romantic new novel perfect for fans of Cassandra Clare, The Madman's Daughter, and Libba Bray.
Mortal Heart
(His Fair Assassin #3)by Robin LaFevers
Links:
Goodreads
Amazon
Synopsis:
Annith has watched her gifted sisters at the convent come and go, carrying out their dark dealings in the name of St. Mortain, patiently awaiting her own turn to serve Death. But her worst fears are realized when she discovers she is being groomed by the abbess as a Seeress, to be forever sequestered in the rock and stone womb of the convent. Feeling sorely betrayed, Annith decides
to strike out on her own.

She has spent her whole life training to be an assassin. Just because the convent has changed its mind doesn't mean she has...
The Kraken King
(Iron Seas #4)
by Meljean Brook
Links:
Goodreads
Amazon
Synopsis:
A former smuggler and thief, Ariq—better known as the Kraken King—doesn't know what to make of the clever, mysterious woman he rescues from an airship besieged by marauders. Unsure if she's a spy or a pawn in someone else's game, Ariq isn't about to let her out of his sight until he finds out…
After escaping her fourth kidnapping attempt in a year, Zenobia Fox has learned to vigilantly guard her identity. While her brother Archimedes is notorious for his exploits, Zenobia has had no adventures to call her own—besides the stories she writes.

But when she jumps at the chance to escape to the wilds of Australia and acquire research for her next story, Zenobia quickly discovers that the voyage will be far more adventurous than any fiction she could put to paper…