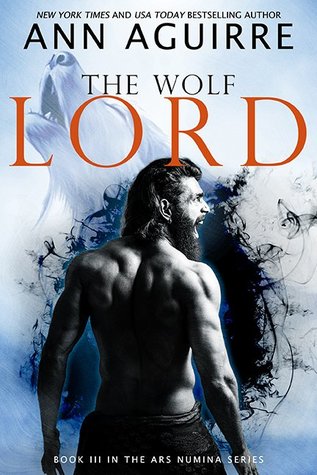 The Wolf Lord
(Ars Numina #3)
Ann Aguirre
Release: March 14, 2018
Goodreads
Amazon
ARC provided by the author
Roguish. Reckless. Unreliable.
Raff Pineda has a certain reputation among the Animari. He's the one to call if there's a party starting, not the man to rely on when all hell breaks loose. Though he's nominally the leader of the Pine Ridge pack, he defers to his second on the tough calls. Raff prefers to live fast and hard and keep his heart hidden, but a certain Eldritch princess won't fall for his usual tricks, and their contract political marriage may be anything but convenient.

Ambitious. Elegant. Isolated.
Princess Thalia Talfayen may not have been raised by a witch in a tower, but she's spent the last few decades locked up for a failed insurrection. Plotting and scheming comes naturally to her; personal connections do not. Since she's come this far in her unstoppable quest to claim the silver throne, she won't hesitate to do whatever it takes to unite her people, even if that means giving herself to the big bad wolf…
Review:
Marriage of convenience isn't a trope I read very often since you mostly find it in historicals, but it worked well in the Fantasy future of the Ars Numina world. Princess Thalia leads one of four factions of Eldritch which are now fighting for the crown Thalia's father held before he allied with the Golgoth to disrupt peace talks and got himself killed. Thalia fears she'll be forced to marry one of the other faction leaders to unite the Eldritch unless she can enlist outside help. Which leads her to propose an alliance with Raff.
Each book in the series has a different feel because they're set in different parts of the world and focus on different supernatural groups. I loved learning about the Eldritch, even though their patriarchal society is not particularly likable. They're long-lived and fond of their traditions, which is why Thalia finds herself in a crumbling castle surrounded by antiques. It's a stark contrast to the high tech modern world in which we saw Raff in
The Demon Prince
. I liked seeing the regular guy side of him as well as the general though.
I enjoyed Raff and Thalia's romance, which is pretty tame compared to the previous one, but what impressed me most about
The Wolf Lord
was the twisty political plot. This book does a lot to advance the series story line that centers around the war between supernatural factions. I'm loving the Ars Numina world and I'm really looking forward to seeing what happens next.
4
stars
My reviews of other books in this series:
The Demon Prince