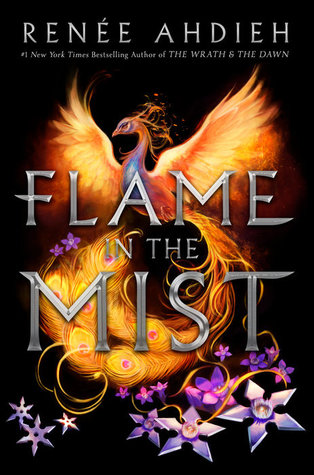 Flame in the Mist
(Flame in the Mist #1)
Renee Ahdieh
Release: May 16, 2017
Goodreads
Amazon
ARC provided by the publisher via First to Read
The daughter of a prominent samurai, Mariko has long known her place—she may be an accomplished alchemist, whose cunning rivals that of her brother Kenshin, but because she is not a boy, her future has always been out of her hands. At just seventeen years old, Mariko is promised to Minamoto Raiden, the son of the emperor's favorite consort—a political marriage that will elevate her family's standing. But en route to the imperial city of Inako, Mariko narrowly escapes a bloody ambush by a dangerous gang of bandits known as the Black Clan, who she learns has been hired to kill her before she reaches the palace.

Dressed as a peasant boy, Mariko sets out to infiltrate the ranks of the Black Clan, determined to track down the person responsible for the target on her back. But she's quickly captured and taken to the Black Clan's secret hideout, where she meets their leader, the rebel ronin Takeda Ranmaru, and his second-in-command, his best friend Okami. Still believing her to be a boy, Ranmaru and Okami eventually warm to Mariko, impressed by her intellect and ingenuity. As Mariko gets closer to the Black Clan, she uncovers a dark history of secrets, of betrayal and murder, which will force her to question everything she's ever known.
Review:
As I write this, I'm nursing a major book hangover. It took me a while to get into
Flame in the Mist
, as is often the case with multi-POV stories, but once I did it was hard to put down. It reminds me of
Rebel of the Sands,
which was one of my favorite books last year. Both books feature characters pretending to be someone else, including girls dressed as boys, and a strong sense of place.
Mariko is an inventor and has always felt out of place in her traditional noble family. She's very much aware of how different her life would be if she were a boy, in part because she has a twin brother. Kenshin is a renowned samurai, while Mariko is being traded to the royal family for political capitol. When she pretends to be a boy in order to infiltrate the Black Clan, she's finally able to find her strength and assert her independence. I appreciate that Ahdieh includes another female who shows her that there is power in being a woman as well.
I love the way the magic is subtly introduced in this world. There are shapeshifters, alchemists, and sorcerers, but their magic is not the only thing that defines them. Even at the end of the book, we still don't know all the details about the magical characters' origins and their powers. I'm thinking they will be a bigger part of book two. And I'm so happy there will be a second book because Holy Cliffhanger, Batman!
I also want to mention that
Flame in the Mist
is not a Mulan retelling. It does take some inspiration from Mulan, but there's so much more to the story. I think to call it a retelling, which I've seen a lot of people do, is really selling it short. It is the story of a girl who finds herself by being someone else, but it's also one of court politics, family loyalties, and a Robin Hood-like group of Lost Boys. And it's an enemies to lovers romance, my personal fave. I'm glad that I took the time to get to know these characters. Now I can't wait for book two!
Recommended for fans of: Rebel of the Sands by Alwyn Hamilton