For most of the day yesterday, I thought it was Tuesday. It happens to all of us occasionally, right? I guess that's why I completely forgot to schedule this WoW post. But there's nothing wrong with waiting on Thursday, other than the lack of alliteration.
Waiting on Wednesday
is a weekly event hosted by
Breaking the Spine
that spotlights upcoming releases that we're eagerly anticipating. So here's this week's belated WOW pick:
I've been working on Best of 2016 lists lately. (It's just about that time!)
Truthwitch
was one of the first books I read this year, but it might wind up being the only one I gave 5 stars. I loved the characters and the world and the girl power vibes! To see me gush about it some more, check out my
Read This F@!%ing Book
post.
One good thing about looking back on how much I loved
Truthwitch
was realizing that the sequel is almost here. I can't wait for
Windwitch
! I loved Prince Merik and his magic! There's also an awesome
preorder promo
from Tor right now.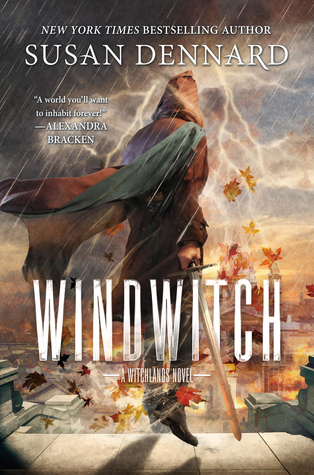 Windwitch
(The Witchlands #2)
Susan Dennard
Release: January 10, 2016
Goodreads
Amazon
The follow-up to New York Times bestselling Truthwitch, next in a breathtaking YA fantasy series hailed by Alexandra Bracken as "a world you will want to inhabit forever."

On a continent ruled by three empires, some are born with a "witchery," a magical skill that sets them apart from others.

In this follow-up to New York Times bestselling Truthwitch, a shadow man haunts the Nubrevnan streets, leaving corpses in his wake—and then raising those corpses from the dead. Windwitch continues the tale of Merik—cunning privateer, prince, and windwitch.