We had so much fun with the Superhero week we put together recently that we decided to do it again. (Plus, we still have a lot of superhero reads in our TBR piles.) All this week we're bringing you more super-themed reviews and features.
Waiting on Wednesday
is a weekly event hosted by
Breaking the Spine
that spotlights upcoming releases that we're eagerly anticipating. So here's this week's WOW pick:
As much as I love to see an old favorite reimagined, sometimes I think it's more fun when authors create entirely new characters.
Heroine Complex
sounds a little like the superhero version of
The Devil Wears Prada,
which sounds kind of awesome
.
Add in the diverse cast and killer cupcakes, and you've got a must-read novel. Really looking forward to this one!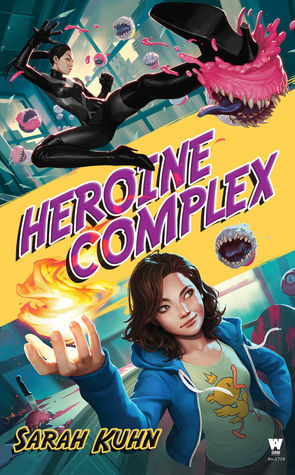 Heroine Complex
Sarah Kuhn
Release: July 5,2016
Goodreads
Amazon
Being a superheroine is hard. Working for one is even harder.

Evie Tanaka is the put-upon personal assistant to Aveda Jupiter, her childhood best friend and San Francisco's most beloved superheroine. She's great at her job—blending into the background, handling her boss's epic diva tantrums, and getting demon blood out of leather pants.

Unfortunately, she's not nearly as together when it comes to running her own life, standing up for herself, or raising her tempestuous teenage sister, Bea.

But everything changes when Evie's forced to pose as her glamorous boss for one night, and her darkest comes out: she has powers, too. Now it's up to her to contend with murderous cupcakes, nosy gossip bloggers, and supernatural karaoke battles—all while juggling unexpected romance and Aveda's increasingly outrageous demands. And when a larger threat emerges, Evie must finally take charge and become a superheroine in her own right... or see her city fall to a full-on demonic invasion.
What book are you waiting on?
Have you seen our Superweek giveaway? Enter here.