Happy Groundhog Day! While we're waiting for Phil to tell us whether we're going to have six more weeks of winter or not, we thought it would be fun to make a list to celebrate the holiday. (And Rose Red wanted an excuse to use Groundhog Day gifs.)
So we took inspiration from Bill Murray and we're going to share the books/series that we love to read again and again.
The Mercy Thompson/Alpha & Omega Series by Patricia Briggs
When the Alpha and Omega series debuted a few years ago, the timeline was a few books behind Mercy's series. They've synched up since then, so it's interesting to reread them both together in chronological order.
The Psy-Changeling Series by Nalini Singh
I only recently discovered Nalini Singh but anytime I pick up a Psy-Changeling book it's like coming home. I'm so in love with this world and its diverse cast of characters that I can honestly say that I don't think I'll ever be tired of it. I've reread the series nine times in three years and I think I fall even more in love with it each time.

Vicious by V. E. Schwab
You all know that I've been a Schwab fangirl since the beginning of her career. So while I've loved all of her books, Vicious is hands down my favorite and most reread. It is a story about science bros turned enemies, superpowers, and it's ultimately a case study on how said power can affect people in different ways. This book is a master class on how a non-linear narrative can be driven by questions. My adoration for this book just increases with each reread and I can't wait to get the continuation of the story in Vengeful.


The Kate Daniels Series by Ilona Andrews
2017 was the first year I didn't reread the entire Kate Daniels series after the new book came out. (I did read the two latest ones back to back though.) Maybe I'll make up for it with a binge this summer before the series finale.
The Night Huntress Series by Jeanniene Frost
A few years ago, I championed Bones for Alpha Showdown. I went to look something up in book two and wound up rereading the whole series. It's seriously addictive!
The Guild Hunter Series by Nalini Singh
Why, yes! We love Nalini Singh's books so much that we had to include both series on this list. The Guild Hunter series is full of dangerous angels, sexy vampires, hot romance, witty banter, and lots of political intrigue and action. The characters and this world are everything we love about Nalini Singh's writing and we can't get enough of it!


The Sookie Stackhouse Series by Charlaine Harris
The first 5 or so books of this series are probably my most reread of all time. I used to binge after each new season of True Blood.
The Blue Sword by Robin McKinley
The Blue Sword is without a doubt my most reread book of all time. I've reread it at least once a year for the past 23 years. Adult Rose Red is just as much in love with this story of an unconventional heroine with a self-aware magical sword and a pretty horse as Kid Rose Red and Teen Rose Red were. I need more heroines like Harry Crewe in my life!


The Whyborne & Griffin Series by Jordan L. Hawk
I know I just discovered this series this past year but I've already reread it twice. I love it so much! It's one of my favorite m/m romances of all time! The main couple have their problems but they're supportive and loving of each other and we need more of that in queer romances. Plus, Christine maybe one of my favorite side characters of all time!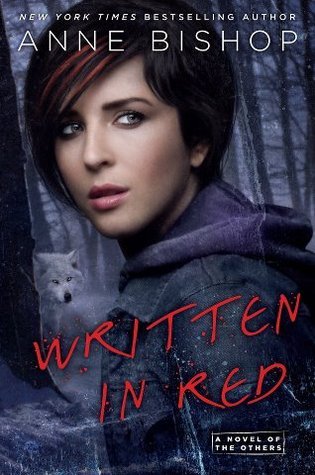 The Others series by Anne Bishop
This series is truly unique in the urban fantasy world. The world is also incredibly complex so you can discover something new every time you read.
What books do you love rereading over and over again?
and