Top 5 Wednesday is a Goodreads group hosted by Sam from
Thoughts on Tomes
. Bloggers, booktubers and bookstagrammers post on a common topic every (you guessed it) Wednesday. You can find the lists by searching #T5W or Top 5 Wednesday. And you can join the group on Goodreads if you want to participate.
This week's topic is:
Favorite Creepy Settings
5. The Vampire Lair in Guilty Pleasures by Laurel K Hamilton
Vampires in the
Anita Blake
series have secret lairs underneath all of their businesses that for the most part are like normal homes or offices. But in the first book, the vampires live in kind of catacombs/dungeon that is super creepy. It's been years since I read it but the image of Anita fleeing up the stairs being pursued by ghostly, floating eyes still stands out.
4. The Cave in Harry Potter and the Half-Blood Prince by J.K. Rowling
One of the creepiest places in the whole
Harry Potter
series for me was the cave that Dumbledore and Harry go to in their search for one of Voldemort's horcuxes. It's way more creepy than the Forbidden Forest by Hogwarts or the cemetery where Voldemort resurrected himself. And that's before the inferi showed themselves.
3. The Other World in Coraline by Neil Gaiman
Neil Gaiman is one of the best authors for weird and creepy but one of the creepiest placest, for me, he's ever written is the Other World. It scared the heck out of me as a kid with it's doppelgangers with their button eyes and it still creeps me out as an adult. The thing is it didn't creep me out at first because it seemed like this whimsical place where Coraline belonged. That got turned on its head fast but it's a testament to Neil Gaiman's writing to incite such a change so quickly.
2. Cabeswater in The Raven Cycle by Maggie Stiefvater
Cabeswater is one of my favorite places I've ever read about! It's beautiful and whimsical and truly a place out of time but it has it's super creepy moments. The one cave scene with Gansey. It's reciprocal tie to Adam. The whole last bit of
Blue Lily, Lily Blue
. Cabeswater could teach a master's course to other settings on how to be both whimsical and unsettling.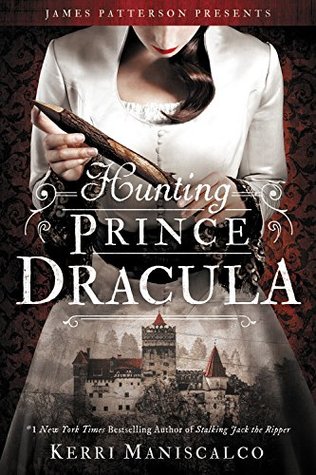 1. Hunting Prince Dracula by Kerri Maniscalco
The forensic school where Thomas and Audrey Rose go to study is more than slightly creepy. The old Romanian castle is dark, unsettling, and rumored to have been the once home of Vlad the Impaler. I was creeped out for most of the book. It made such an excellent setting for this story!
What are your favorite creepy settings?
and