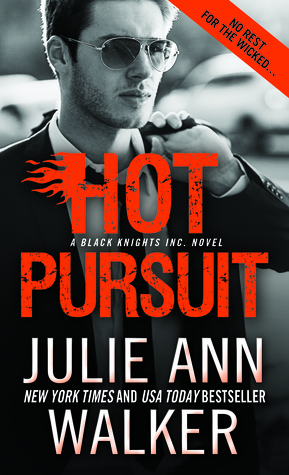 Hot Pursuit
(Black Knights Inc #11)
Julie Ann Walker
Release: October 3, 2017
Goodreads
Amazon
ARC provided by the publisher via Netgalley
He puts the hot...
Christian Watson, a former SAS officer and current BKI operator, never thought he would return to England after a terrible turn of events forced him to abandon his homeland. But now he's back on British soil where old enemies are determined to do him in. Fighting for his life is pretty much SOP for Christian. Doing it with the beautiful, bossy Emily Scott in tow is another matter entirely.

In hot pursuit.
Emily lost her coveted job at the CIA because of a colleague turned rogue, and now she has just one rule when it comes to men: they're for recreational purposes only. But when she and Christian are thrust into very close quarters while evading two mysterious men who want Christian dead, she can't help but question all her ideas about love and life lived on the edge. Battling the bad guys is hard enough, battling her feelings for Christian just might prove impossible.
Review:
I've been watching Christian and Emily banter over the last two BKI books and I was so ready for them to take center stage. They're stranded in England with teammates Ace and Angel and Rusty, a civilian, hiding out in Christian's uncle's cottage. The close quarters give Christian and Emily the perfect opportunity for romance but they're so stubborn! You ever want to just take the book and smack the characters on the head with it?
I feel like this is really the second half of their romance since they had a such a prominent role in
Fuel For Fire.
At the end of that book it felt like their hook up was imminent which made it frustrating to see them suddenly start fighting it. But I've been rooting for Christian and Emily for three books now, so it's especially satisfying when it finally comes together.
I would have expected the search for the villain Spider to continue in
Hot Pursuit
as well, but instead the team is dealing with an enemy from Christian's past. But I loved their cat and mouse adventure so I'm not complaining. This is really the first time details about Christian's life have come up despite his being featured in the last two books so I was happy to see that. I loved getting little bits of other characters, especially Boss and Becky, too.
The only thing that bothered me was Emily. She's from Bridgeport on the South Side of Chicago and her language and mannerisms are supposed to reflect that. She just felt a bit off to me. When she got upset and went all "hood rat" (her words, not mine) she just sounded like a teenager. I'm not sure that a man in his 30's would actually find that charming like Christian seems to. (I went to college in Chicago and worked with some ladies from that neighborhood so I feel like I have a little bit of room to judge.)
Over the last few books, Walker has started referencing BKI closing and how it might affect the characters. I'm more concerned about how it will affect the series and I'm starting to feel like a spin off could be in the works. I'm more than happy to keep reading about these characters.
4
stars
My reviews of other books in this series:
Fuel For Fire
Wild Ride