Top 5 Wednesday
is a Goodreads group hosted by Sam from
Thoughts on Tomes
. Bloggers, booktubers and bookstagrammers post on a common topic every (you guessed it) Wednesday. You can find the lists by searching #T5W or Top 5 Wednesday. And you can join the group on Goodreads if you want to participate.
This week's topic is:
Books We've Read Because of Blogging or Bookstagram
Rose Red's List
5. Simon vs the Homo Sapiens Agenda by Becky Albertalli
This is going to sound crazy since this book is insanely popular but I would have never heard of it if I hadn't been a part of the YA book blogging community. I've lived in only highly conservative areas since it was released and there's been no talk about it and it hasn't been in any of my local libraries. I'm so glad I had blogger friends who pointed me to this one because it was so fantastic!
4. Geekerella by Ashley Poston
Geekerella
is one of my favorite books of this year and I would never had known about it if I didn't follow several booksellers who are huge voices in the YA book blog community. I had no idea that this book was coming out until they started raving about it. I was lucky that I found out about it when I was still able to request the ARC. I'm so happy to have this geeky
Cinderella
retelling in my life!
3. Timekeeper by Tara Sim
Like
Geekerella
, I wouldn't have know that
Timekeeper
was a thing without YA book Twitter. Some of my friends got early copies and hearing them rave about it had me requesting the ARC so fast that my mouse probably suffered a bit of whiplash. And I'm so glad! This was one of my top five books of last year and I can't wait to get my hands on the next book!
2. The Chicagoland Vampires Series by Chloe Neill
This is one of the series that I've picked up because Gretl (and Goldilox!) did nothing but rave about it the first two years we blogged together. I picked it up right before book 12 came out and I haven't looked back since. I adored this series! Gretl, you can tell me I told you so now.
1. The Psy-Changeling Series by Nalini Singh
It seems weird to think that I only picked up this series two years ago. I'd heard nothing but great things about it from multiple PNR/UF bloggers over the years but didn't get around to picking it up until the first book was a kindle deal to promote the new cover. I binged all the books and novellas and short stories in this series in a week around the time
Shards of Hope
came out and I've been a proud member of the Nalini Singh fan club. I can't believe it took me so long to pick these books up but I'm so glad I did! It's one of my all-time favorite series now.
Gretl's List
It would probably me easier for me to make a list of books I
bought
because of the blogging and bookstagram communities:
When Dimple Met Rishi
,
The Lunar Chronicles
, ACOTAR, just to name a few. In YA especially, I'm not good at actually
reading
the books everyone is talking about. But this is supposed to be a list book I've read so I'll give it a shot.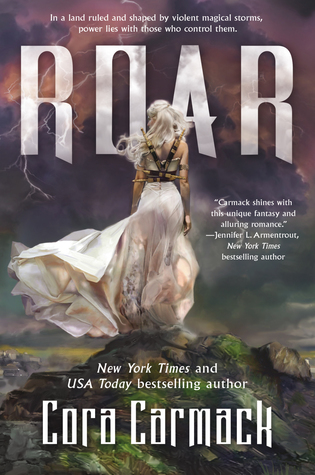 5. Roar by Cora Carmack
So there's at least one book I discovered through YA bookstagram that I did actually read. It didn't exactly live up to the hype for me, but I know other people that loved it.
4. The SWAT and X-Ops series by Paige Tyler
Several bloggers I follow love Paige Tyler, including Carmel and Melanie at Rabid reads. I just started reading her last year but I binged both series and now I'm hooked.
3. A Promise of Fire by Amanda Bouchet
I was a little bit late to this series but it came highly recommended by Jo at Vampire Book Club.
2. Mister O by Lauren Blakely
Jennifer at The Book Nympho loves Lauren Blakely. I've read four of her books from the library recently and Mister O is my favorite. They're similar to Emma Chase's books which I've talked about in the blog before.
1. A Darker Shade of Magic by V.E. Schwab
I might not have picked up this series had Rose Red not been such a big fan of Schwab. Now you'll see it all over both the blog and our Instagram feed.