I've been loving my Whimsify boxes so far, as you know if you've been following these posts. But I think the July Something Wicked This Way Comes box might be the best one yet. They did a great job creating a cohesive theme, not just with the items but visually. Look how gorgeous it is! (The only way it could be better is if the book cover were red and black, but I like the purple cover so I'm not going to complain too much.)
Here's what's inside the box:
Whimsify includes a candle in every box. (Yay!) This month's is from
Muggle Library Candles
and was custom made for this box. It's called Gamorrah, which is the name of the festival in the book and smells like licorice and cherries. I'm not a fan of licorice but I love that this is a scent taken directly from the book.
The gorgeous tote with a quote from
Caraval
was designed by
Miss Phi.
It says, "Every person has the power to change their fate if they are brave enough to fight for what they desire more than anything."
This box has included some great bookmarks. This month's is designed by
Dreamy and Co.
and features a quote from
Menagerie
by Rachel Vincent, which I think is an odd choice only because it is very much not a YA book. It is perfect for this theme though. The quote is "In the end it wouldn't matter. I had no intention of being broken."
This is the first time there have been edible goodies in the box and there are two: chocolate and strawberry tea from
Riddle's Tea Shoppe and Curiosities
inspired by
Night Circus
and caramel corn from
Kettle Encore Popcorn
. I had to fight my kid to get the picture taken before she ate the popcorn. It was a big hit! I've also heard great things about Riddle's Tea Shoppe and I like fruity tea so I'm excited to try this one.
There are lots of quotes in this month's box! The final one is an art print featuring the line from
Macbeth
from which the box's theme is taken. It was designed by
Dorothy Reads
.
The book is
Daughter of the Burning City
by Amanda Foody. This was one of 2017 Most Anticipated so I was really excited to see it included in the box. There's also a signed book plate and a poster.
I'm trying to include a book review in my unboxing posts, in part to make sure I read the books, but with school about to start I didn't quite make it this time. Watch for my review later this month.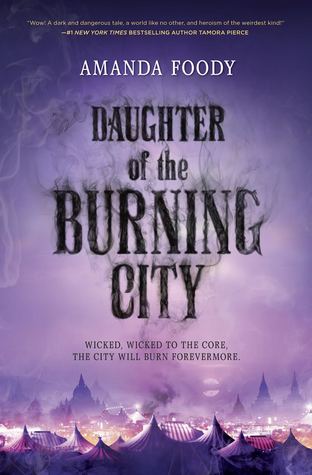 Daughter of the Burning City
Amanda Foody
Release: July 25, 2017
Goodreads
Amazon
A darkly irresistible new fantasy set in the infamous Gomorrah Festival, a traveling carnival of debauchery that caters to the strangest of dreams and desires.

Sixteen-year-old Sorina has spent most of her life within the smoldering borders of the Gomorrah Festival. Yet even among the many unusual members of the traveling circus-city, Sorina stands apart as the only illusion-worker born in hundreds of years. This rare talent allows her to create illusions that others can see, feel and touch, with personalities all their own. Her creations are her family, and together they make up the cast of the Festival's Freak Show.

But no matter how lifelike they may seem, her illusions are still just that—illusions, and not truly real. Or so she always believed…until one of them is murdered.

Desperate to protect her family, Sorina must track down the culprit and determine how they killed a person who doesn't actually exist. Her search for answers leads her to the self-proclaimed gossip-worker Luca, and their investigation sends them through a haze of political turmoil and forbidden romance, and into the most sinister corners of the Festival. But as the killer continues murdering Sorina's illusions one by one, she must unravel the horrifying truth before all of her loved ones disappear.