Top 5 Wednesday
is a group of bloggers, booktubers and bookstagrammers posting on a common topic every (you guessed it) Wednesday. You can find the lists by searching #T5W or Top 5 Wednesday. And you can join the group on
Goodreads
if you want to participate.
This week's topic is 2017 debuts we're excited for.
5. I'm almost afraid this one won't live up to the hype.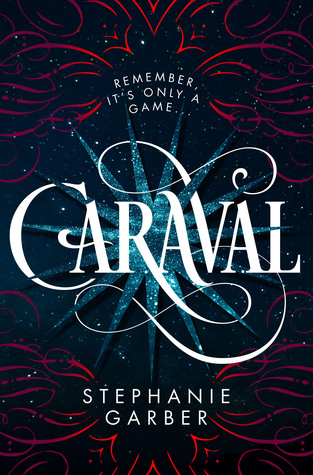 Caraval
Stephanie Garber
Release: January 31
Goodreads
Amazon
Welcome, welcome to Caraval―Stephanie Garber's sweeping tale of two sisters who escape their ruthless father when they enter the dangerous intrigue of a legendary game.

Scarlett has never left the tiny island where she and her beloved sister, Tella, live with their powerful, and cruel, father. Now Scarlett's father has arranged a marriage for her, and Scarlett thinks her dreams of seeing Caraval, the far-away, once-a-year performance where the audience participates in the show, are over.

But this year, Scarlett's long-dreamt of invitation finally arrives. With the help of a mysterious sailor, Tella whisks Scarlett away to the show. Only, as soon as they arrive, Tella is kidnapped by Caraval's mastermind organizer, Legend. It turns out that this season's Caraval revolves around Tella, and whoever finds her first is the winner.

Scarlett has been told that everything that happens during Caraval is only an elaborate performance. But she nevertheless becomes enmeshed in a game of love, heartbreak, and magic with the other players in the game. And whether Caraval is real or not, she must find Tella before the five nights of the game are over, a dangerous domino effect of consequences is set off, and her sister disappears forever.

4. I've heard so much good stuff about this one already!
Not all are free. Not all are equal. Not all will be saved.




Our world belongs to the Equals — aristocrats with magical gifts — and all commoners must serve them for ten years. But behind the gates of England's grandest estate lies a power that could break the world.




A girl thirsts for love and knowledge.




Abi is a servant to England's most powerful family, but her spirit is free. So when she falls for one of the noble-born sons, Abi faces a terrible choice. Uncovering the family's secrets might win her liberty, but will her heart pay the price?




A boy dreams of revolution.




Abi's brother, Luke, is enslaved in a brutal factory town. Far from his family and cruelly oppressed, he makes friends whose ideals could cost him everything. Now Luke has discovered there may be a power even greater than magic: revolution.




And an aristocrat will remake the world with his dark gifts.




He is a shadow in the glittering world of the Equals, with mysterious powers no one else understands. But will he liberate—or destroy?
A debut historical fantasy that recasts Jane Austen's beloved Pride and Prejudice in an imaginative world of wyverns, dragons, and the warriors who fight alongside them against the monsters that threaten the kingdom: gryphons, direwolves, lamias, banshees, and lindworms




They say a Rider in possession of a good blade must be in want of a monster to slay—and Merybourne Manor has plenty of monsters.




Passionate, headstrong Aliza Bentaine knows this all too well; she's already lost one sister to the invading gryphons. So when Lord Merybourne hires a band of Riders to hunt down the horde, Aliza is relieved her home will soon be safe again.




Her relief is short-lived. With the arrival of the haughty and handsome dragonrider, Alastair Daired, Aliza expects a battle; what she doesn't expect is a romantic clash of wills, pitting words and wit against the pride of an ancient house. Nor does she anticipate the mystery that follows them from Merybourne Manor, its roots running deep as the foundations of the kingdom itself, where something old and dreadful slumbers . . . something far more sinister than gryphons.




It's a war Aliza is ill-prepared to wage, on a battlefield she's never known before: one spanning kingdoms, class lines, and the curious nature of her own heart.




Elle Katharine White infuses elements of Austen's beloved novel with her own brand of magic, crafting a modern epic fantasy that conjures a familiar yet wondrously unique new world.
The thrilling first book in a YA fantasy trilogy for fans of Red Queen. In a world where social prestige derives from a trifecta of blood, money, and magic, one girl has the ability to break the spell that holds the social order in place.
Sixteen-year-old Anna Arden is barred from society by a defect of blood. Though her family is part of the Luminate, powerful users of magic, she is Barren, unable to perform the simplest spells. Anna would do anything to belong. But her fate takes another course when, after inadvertently breaking her sister's debutante spell—an important chance for a highborn young woman to show her prowess with magic—Anna finds herself exiled to her family's once powerful but now crumbling native Hungary.

Her life might well be over.

In Hungary, Anna discovers that nothing is quite as it seems. Not the people around her, from her aloof cousin Noémi to the fierce and handsome Romani Gábor. Not the society she's known all her life, for discontent with the Luminate is sweeping the land. And not her lack of magic. Isolated from the only world she cares about, Anna still can't seem to stop herself from breaking spells.

As rebellion spreads across the region, Anna's unique ability becomes the catalyst everyone is seeking. In the company of nobles, revolutionaries, and Romanies, Anna must choose: deny her unique power and cling to the life she's always wanted, or embrace her ability and change that world forever.
Bonus pick: I can't decide decide where to rank this one since the author is a friend of mine. But doesn't it sound awesome?
(Soul Charmer #1)
Chelsea Mueller
Release: May 2
Callie Delgado always puts family first, and unfortunately her brother knows it. She's emptied her savings, lost work, and spilled countless tears trying to keep him out of trouble, but now he's in deeper than ever, and his debt is on Callie's head. She's given a choice: do some dirty work for the mob, or have her brother returned to her in tiny pieces.

Renting souls is big business for the religious population of Gem City. Those looking to take part in immoral—or even illegal—activity can borrow someone else's soul, for a price, and sin without consequence.

To save her brother, Callie needs a borrowed soul, but she doesn't have anywhere near the money to pay for it. The slimy Soul Charmer is willing to barter, but accepting his offer will force Callie into a dangerous world of magic she isn't ready for.

With the help of the guarded but undeniably attractive Derek—whose allegiance to the Charmer wavers as his connection to Callie grows—she'll have to walk a tight line, avoid pissing off the bad guys, all while struggling to determine what her loyalty to her family's really worth.

Losing her brother isn't an option. Losing her soul? Maybe.
Here are 5 more late 2017 debuts that sound amazing but don't have covers, or in some cases even blurbs, yet. Click the titles to add them to Goodreads.
What debut authors are on your radar this year?