You all know that we love Chloe Neill and her books a ridiculous amount here on Goldilox and the Three Weres. So we're ecstatic that we get to participate in the blog tour for The Sight, book two in the Devil's Isle series! Rose Red and Gretl are bringing you a review of the book, a swag pack giveaway, and information on Chloe's awesome tour wide Grand Prize Giveaway.
The Sight
(Devil's Isle #2)
Chloe Neill
Release: August 16, 2016
Goodreads
Amazon
ARC provided by the publisher via Netgalley
The paranormal war that engulfed New Orleans seven years ago is over. But the battle for the city is just beginning . . .

Claire Connolly is a Sensitive, infected with magic when the Veil that divides humanity from the world beyond fell. Magic can easily consume and destroy a Sensitive, and if Claire's secret is discovered she'll be locked into the walled district of Devil's Isle along with every other Paranormal left in the city.

Bounty hunter Liam Quinn discovered Claire's secret, but refused to turn her in. Together they saved New Orleans from the resurgence of magic that nearly destroyed it. But now a dangerous cult is on the rise, and it will take both Claire and Liam—and magical allies within Devil's Isle's towering walls—to defeat the occult threat before magic corrupts them both...
Review:
We're doing something a little different with this review - a pros and cons list. You might notice that the pro list is much longer. We really loved
The Sight
!
Pros
Claire is one of my favorite parts of this series. She is often afraid but she doesn't let her fear stop her from doing what she needs to. She has a backbone and I like that. I love that she's sensible and thinks out most of her actions. She's always trying to do her best by everyone and I respect that.
Not only do we see Claire training to be a bounty hunter, we get to see her training to use her powers. This book portrays her powers and her learning curve in a much more believable way than in book one where Claire discovers she has magic and five minutes later she's saving the world.
I liked that the "villains" in this book aren't supernatural, but human zealots. Just like in our world, they're dangerous and I loved seeing how that transferred into Claire's world. The cult-like faction made for a different kind of villain than we usually see in UF (even though it's not the first time we've seen it from Neill.)
I love that even though Claire has no family of her own anymore, she makes one out of her friends. I need more Moses, Gunnar, Tadji, Burke, Gavin, and Eleanor in my life! I also get excited about new types of supernaturals, so I loved the scenes where Claire traveled around Devil's Isle and learned about its diverse inhabitants.
Cons
I'm so sick of love triangles! Without being too spoilery, I didn't think there
really
was a love triangle. Rather one of the characters is messing with the other two, but it was just weird and kind of creepy.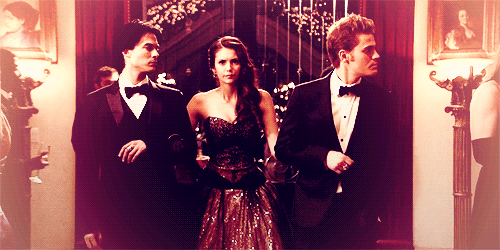 Maybe it's not quite
Hard Bitten
level rip your heart out and stomp on it, but OW MY FEELS! And I'm not sure that I like the fact that Neill always has the hero doing something idiotically tragic that leaves the heroine bereft in every series.
4.5 / 5 Stars!
and

Our reviews of other books in this series:
The Veil by Chloe Neil
l
Thanks to the author we have an awesome prize pack to giveaway on our stop of the tour!
The prize pack will include:
Devil's Isle tote bag, pen, and sticker sheet
Royal Mercantile Koozie and bookplate
The Veil screen wipe
Chicagoland Vampires and Devil's Isle bookmarks
a Rafflecopter giveawa
y
The fun doesn't stop here.
Want more chances to win? You can also enter Chloe's Grand Prize Giveaway, which will run August 8 through August 19 on
Chloe's web site.
What's included in the Grand Prize Giveaway?
Kindle Voyage
$50 Amazon Gift Card
Devil's Isle tote bag, pen, sticker sheet
Royal Mercantile Koozie
Devil's Isle and Chicagoland Vampires bookmarks
The Sight Blog Tour Schedule