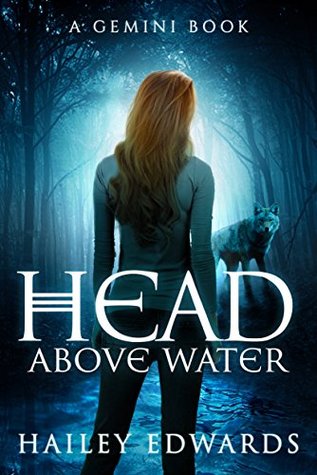 Head Above Water
(Gemini #2)
Hailey Edwards
Release: April 30, 2016
Goodreads
Amazon
Camille Ellis has tracked many killers during her career,but this time it's personal. Cut off from conclave resources, she won't let a small thing like a suspension keep her from accepting Cord Graeson's offer of help.

Pretending to be mated to him is one way to secure allies, but the best that can be said of the Chandler Pack is they haven't killed or eaten her. Yet. Between the alpha's displeasure and the pack's distrust of fae, she's working overtime to keep her head above water.

Just when the fur starts to fly, a tip cracks her case--and her life--wide open.
Review:
Camille Ellis has been tracking Charybdis, a Fae serial killer for months. She caught the killer in book one of the series, but that Fae was just a puppet. Camille wanted to keep searching for the mastermind, but her bosses at the conclave don't believe her and put her on administrative leave. Now she's on her own, with just her Warg ally Cord Graeson as backup.
But her relationship with Cord is complicated. He invited her and her family to his pack lands and told her aunt that they were dating. When she arrives, the whole pack believes they are mated and the Alpha is not happy about it. Now Camille has to fight to keep the man she didn't know she wanted before he can even begin to work on the case.
At times
Head Above Water
feels like a werewolf romance. Camille gets thrown in the middle of the pack and their power struggles without knowing any of the rules, just like a lot of shifters' mates. But I liked seeing Edwards's twist on it. (Though maybe liked is not the right word since it's mostly unpleasant.)
Even though some of the werewolf elements are familiar, the Gemini are unlike anything else I've seen. In this second book, we get to meet some of Camille's family and learn more about their powers. Camille also starts to embrace her abilities for the first time, which gives her confidence and competence she was missing in the first book. I like this version of her much better than the traumatized girl she seemed to be at the start of the series.
In my review of
Dead in the Water
, I said that the Gemini series feels like a serial even though they are full-length novels. I think that's even more true in this book. (Cliffhanger alert!) Book three,
Hell or High Water,
doesn't seem to have a release date yet, but I'm sure that just like with Edwards's other series, we won't have to wait long to find out what happens next.
Recommended for fans of: the Black Dog series, werewolves and fae
ARC provided by the publisher via Netgalley
3 1/2
stars
My reviews of other books in this series:
Dead in the Water