Waiting on Wednesday
is a weekly feature hosted by the
Breaking the Spine
that spotlights upcoming releases we're eagerly anticipating. Here's this week's WoW pick:
We've been talking about retellings this week so I thought I'd share one that I'm looking forward to. In Monday's
Show Me Yours post
I told you how much I loved Christina Henry's
Alice
. The sequel is coming out this summer and I can't wait.
One of things that made
Alice
so creepy for me was that all of the women in the Old City were victims, even Alice, though she overcomes her past in some ways. I'm really excited to see the difference powerful women make in this world. Alice is becoming more powerful herself as she discovers her magical abilities, but she's also meeting the queens.
I also thought that her relationship with Hatcher was really interesting. It's not exactly a romance, but it might turn into one. I'm curious about how it will play out in
Red Queen
.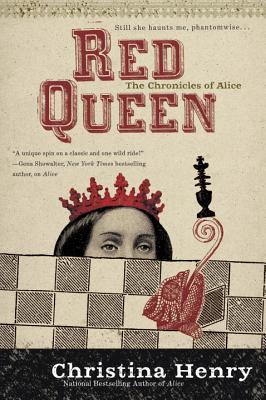 Red Queen
(The Chronicles of Alice #2)
Christina Henry
Release: July 12, 2016
Goodreads
Amazon
The author of Alice takes readers back down the rabbit hole to a dark, twisted, and fascinating world based on the works of Lewis Carroll...

The land outside of the Old City was supposed to be green, lush, hopeful. A place where Alice could finally rest, no longer the plaything of the Rabbit, the pawn of Cheshire, or the prey of the Jabberwocky. But the verdant fields are nothing but ash—and hope is nowhere to be found.

Still, Alice and Hatcher are on a mission to find his daughter, a quest they will not forsake even as it takes them deep into the clutches of the mad White Queen and her goblin or into the realm of the twisted and cruel Black King.

The pieces are set and the game has already begun. Each move brings Alice closer to her destiny. But, to win, she will need to harness her newfound abilities and ally herself with someone even more powerful—the mysterious and vengeful Red Queen...