Welcome to a feature we're going to post on Mondays called:
Read This F@!%ing Book
This is a feature for us to push our favorite reads that just aren't getting enough attention!
We're also opening it up to anyone who would like to guest post. Do you have a book that you just LURVED but feel like it's not getting the play it deserves? Email us to let us know and we'd be THRILLED to have you post about it here! Especially if its something we haven't reviewed yet - that's even better (but not necessary)!
If you're interested email Goldilox3weres@hotmail.com
or send us a message on Facebook.
This week's post comes from our very own:
Gretl!
Read This F@!%ing Book 54: The Abyss Surrounds Us by Emily Skrutskie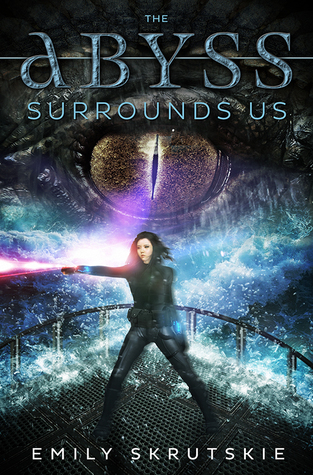 The Abyss Surrounds Us
(The Abyss Surrounds Us #1)
Emily Skrutskie
Release: Feb. 8, 2016
For Cassandra Leung, bossing around sea monsters is just the family business. She's been a Reckoner trainer-in-training ever since she could walk, raising the genetically-engineered beasts to defend ships as they cross the pirate-infested NeoPacific. But when the pirate queen Santa Elena swoops in on Cas's first solo mission and snatches her from the bloodstained decks, Cas's dream of being a full-time trainer seems dead in the water.

There's no time to mourn. Waiting for her on the pirate ship is an unhatched Reckoner pup. Santa Elena wants to take back the seas with a monster of her own, and she needs a proper trainer to do it. She orders Cas to raise the pup, make sure he imprints on her ship, and, when the time comes, teach him to fight for the pirates. If Cas fails, her blood will be the next to paint the sea.

But Cas has fought pirates her entire life. And she's not about to stop.
I think this is the first ever Release Day RTFB, but I thought this was such a cool book I had to share it with everyone ASAP. Just from that cover it looks awesome, right? Here's what I loved about The Abyss Surrounds Us:
Pirate Girls!
The Abyss Surrounds Us takes place in an alternate near future where, presumably, the polar ice caps have melted and the Earth is mostly covered by water. The world's countries re-divided into smaller and easier to manage nations, and left some far-flung islands without government. These islands became havens for pirates.
The ship on which our heroine Cassandra finds herself is captained by a ruthless woman named Santa Elena. Half of her teenage proteges, including the one in charge of Cas, are female as well. I loved the diversity and the girl power in this book! I think this is something that YA does so much better than adult books right now.
Sea Monsters!
In an effort to stop the pirates, the world's nations got together and developed Reckoners, sea monsters that escort and defend their ships. Reckoners are created Jurassic Park-style from the DNA of several different species. They can be mostly turtle-like, squid-like, or snake-like, though obviously a giant version of whichever animal they resemble. Each Reckoner has a trainer that travels aboard its ship to oversee its care and direct it in battle.
The Reckoner battles are just epic and wonderful and my favorite parts of the book. It's kind of like Pacific Rim without the robots. In addition to being really cool, they let Cassandra show us what makes her special. Her innate sense of what her Reckoner is capable of and her outside the box thinking will surprise readers just as much as her adversaries. I would love to see this book become get made into a movie so I could watch her battle on the big screen.
Have you read this book?
Let us know in the comments below!
Did we persuade you to add it to your TBR mountain?