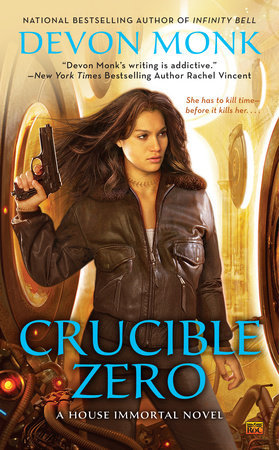 Crucible Zero
(House Immortal #3)
Devon Monk
Release: Sept 1, 2015
Goodreads
Amazon
The national bestselling author of Infinity Bell returns to her "fresh and unique"* world where the truce between the ruling Houses has shattered and chaos now reigns. Only one woman has the power to save the world—but she could also destroy it...

Matilda Case never thought of herself as a hero. But because she is galvanized—and nearly immortal in her stitched, endlessly healing body—she doesn't have much of a choice. Even if she doesn't want to save the world, she's the only one capable of traveling in time to do so.

But her rescue attempt hasn't gone as planned. She's stuck in an alternate universe, and her world is in danger of disappearing. Worst of all, an unfathomably powerful man who can also travel through history doesn't want her to put things to rights. He's willing to wage bloody war to stop Matilda, unless she surrenders control of time to him.

Now, with the minutes ticking, Matilda must make impossible decisions, knowing that one wrong choice will destroy her—and any chance of saving everything she loves...
Review:
You might not want to read this review if you haven't read the first two books in the House Immortal series. You definitely don't want to read this book if you haven't read them.
Crucible Zero
picks up right where
Infinity Bell
left off with Foster, Abraham and Sallyo sitting in the Case's farmhouse kitchen having just delivered the news that Quentin and Matilda have a price on their heads.
Matilda has just arrived as well, though in a much different sense. She traveled back in time to deliver a message to her many-greats grandfather Alvare Case, creator of the Wings of Mercury experiment. That experiment created the thirteen immortal galvanized, but it also generated a flaw in time that was about to rebound and kill millions. By correcting Alvare's calculations, she changed the world. Matilda returned to her body at the exact moment she left her old timeline, only to find everything a little bit different.
The world of the first two books was dystopian, with twelve Houses ruling the world and fighting amongst themselves. I would call the world of
Crucible Zero
post-apocalyptic. It's been struck by asteroids and ravaged by plagues. At night, hordes of zombie-like mutant animals called ferals attack anything that moves. There are now only three Houses - Earth, Fire and Water. And the galvanized are no longer champions contracted to the Houses, but mercenaries and outlaws. Almost everyone from Matilda's old life is present though, even if their circumstances are very different.
All of the books in the series have been fast-paced and full of great action, but
Crucible Zero
takes it to the next level. In a scene worthy of a Mad Max movie, Foster drives a van through a swarm of ferals, crushing them and splattering the windshield with gore, while Matilda hangs out window brandishing an axe and Abraham stands on the roof with a flamethrower. I loved how the three of them had immediate chemistry even though for Foster and Abraham it's been three hundred years since they last saw Matilda.
I think
Crucible Zero
is also much more of a romance than either of the first two books.There's a lot more flirtation and sexual awareness, perhaps because the new Matilda is more experienced. Matilda loved Abraham in her old life, but she just met this new version of him. I enjoyed watching her fall in love all over again.
If you're a binge reader like me, I highly recommend reading this series all at once. The plot is complicated, particularly the time-travel aspects, and everything moves so fast. I wanted to re-read the first two books before starting this one, but ran out of time. I did wind up looking back at the end of
Infinity Bell
to remember what Matilda changed and why the galvanized are still stitched.
I've loved the entire House Immortal series! I'm sad that it's over, but I'm happy with how it ended. This is definitely one I'll re-read soon.
Recommended for fans of: dystopian and post-apocalyptic worlds like Firefly and The Hunger Games, more-than-human heroes
ARC provided by the publisher via Netgalley
4 1/2
stars
My reviews of other books in this series:
House Immortal
Infinity Bell