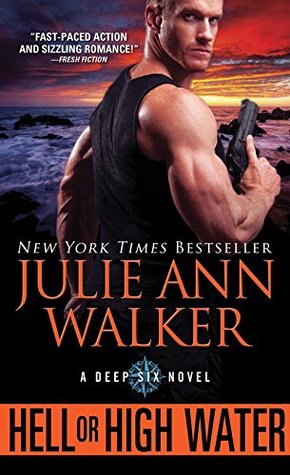 Hell or High Water
(Deep Six #1)
Julie Ann Walker
Release: July 7, 2015
Goodreads
Amazon
In a world on the brink...

Six men. One sunken Spanish galleon. Millions in gold and silver coins lying on the ocean floor. And a past that refuses to let the guys of Deep Six Salvage forget the Navy SEAL motto: the only easy day was yesterday...

There's more than one kind of treasure...

The nation's security has always been CIA agent Olivia Mortier's top priority. But a mission-gone-wrong has begun to make her wonder if there's more to life than risking hers.

And more than one secret at the bottom of the sea...

Only two things could make Leo Anderson abandon his hunt for the legendary lost ship, La Santa Christina, and return to the world of weapons and warfare he swore to leave behind: a capsule of enriched uranium, lost on the ocean floor, and a plea for assistance from the one woman he can't seem to forget...
Review:
I've been excited about the
Deep Six
series ever since Leo and his crew were introduced in Julie Ann Walker's last
Black Knights Inc
book
Full Throttle
. The former SEALs certainly did not disappoint.
Hell or High Water
maintains the feel of the BKI series with great action and steamy romance, but brings in fresh, fascinating characters and exotic new locations, which are well researched and highly detailed. I could easily picture the island in the Florida Keys where the crew is based. I'm looking forward to learning more about the area as the series progresses.
I really enjoyed the romance between Leo and Olivia. It's sort of the battlefield version of a friends to lovers story. Despite having history together they don't jump right in, but build up to the physical relationship and confessing their feelings. I liked that they worked for it, but I don't love that thing where the heroine has a secret that she assumes the hero will condemn her for so she thinks the relationship is doomed. I feel like I've seen that too many times and it always frustrates me.
The suspense plot about a CIA mole kept me guessing. I was afraid it might cover too much familiar territory when oil heiress Maddy's yacht is hijacked by terrorists -
In Rides Trouble
(BKI #2) started out much the same way – but it never felt repetitive. I thought the primary villain was well-developed and believable. I might have liked to see him have a closer connection to Olivia though.
I feel like this first book may serve as a transition for both the characters and readers from a mercenary storyline into the salvage operation. I'm excited to see what happens if and when they start searching for the sunken galleon. I hope to learn more of the story of the Santa Cristina as well as the getting to know the Deep Six crew.
Recommended for fans of: Walker's Black Knights Inc, Carolyn Crane's The Associates, or Shannon K Butcher's Edge series
ARC provided by the publisher