Wow - two years! That's pretty crazy! I've met a lot of really wonderful bloggers and readers in the past two years and have learned that I'm not the only crazy person who likes to read about things that go bump in the night...and in your bed! I've also met some really cool authors. Some were new favorites who were so down to Earth and others were such big authors to me that I was left star struck!
To celebrate my second blogoversary I thought I'd switch things up a bit. All this week I will be the one interviewed!
I've asked some of my favorite authors and bloggers to pick my brain and boy did they come up with some interesting questions! Some went the serious route and threw one big question at me, while others wanted to know a series of things about my reading life. Others still - and you know who you are - took a bit of a less serious route.
Here's the schedule for the week:
Mon. 7/29
Author Jenn Bennett
Giveaway: one book in the Arcadia Bell series
(US/CAN)
Tues. 7/30
Blogger Jennifer @ The Book Nympho
Giveaway: Midnight Frost by Jennifer Estep
(US/CAN)
Wed. 7/31
Author Darynda Jones
Giveaway: First Grave on the Right
(US/CAN)
Thur. 8/1
Blogger Jenese @ Readers Confession
Giveaway: Biting Bad by Chloe Neill
(US/CAN)
Fri. 8/2
Author Stacey Jay
Giveaway: Ebook copy Of Beast and Beauty
(INT)
Sat. 8/3
Blogger Laura @ Little Read Riding Hood
Giveaway: Undead and Underwater & Undead and Unsure by Mary Janice Davidson
(US/CAN)
On to day two! Today, Jennifer from The Book Nympho has given me some deep, serious, thought-provoking questions...HAHAHA just kidding!
Here are Jennifer's Interview Questions For Me:
1. Favorite Urban Fantasy series
Tie between the Fever series by Karen Marie Moning and Downside Ghosts by Stacia Kane.
Vampire Academy by Richelle Mead and both of Jennifer Armentrout's YA series: Lux and Covenant!
3. Do you listen to music while you read?
No! OMG Do people do that? I couldn't deal with that. I like music or the TV in the background for almost everything I do – EXCEPT reading!
4. You're new to audios. Do you have any fave narrators?
I'm loving Amanda Ronconi. She narrates the Soul Screamers series but she's most famous for narrating Molly Harper's book. I'm going to be starting those really soon. I also LOVE how Lauren Fortgang's voice sounds for the Gin Blanco series.
5. What male character would you like to ride at a gallop until their legs buckled?
Just one? No way. I'd throw a saddle on Terrible, Bones, Barrons, and Reyes and alternate between the four of them! And I'd have Damaeon Black waiting in the hallway for when those four were exhausted!
6. What book heroine are you most like?
I really related to Justine from the Disillusionist Trilogy because I have anxiety and crazy fears like she did. So, I especially liked watching her get powerful. I'm still waiting for my super power to kick on though…..
7. What was the last book you DNF?
Gameboard of the Gods
. So so so sad to DNF a Richelle Mead book. One day I might go back and read a little more of it because I DNF'ed it pretty damn early into it. We'll see.
Thank you to Jennifer for interviewing me!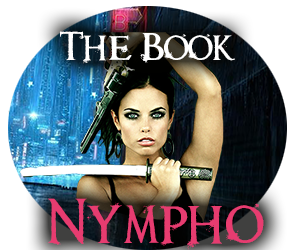 Enter to win MIDNIGHT FROST by Jennifer Estep!
US/CAN only.
a Rafflecopter giveaway