Welcome to a feature I'm going to post on Mondays called:
Read This F@!%ing Book!
This is a feature for me to push my favorite reads that just aren't getting enough attention!
I'm also opening it up to anyone who would like to guest post. Do you have a book that you just LURVED but feel like its not getting the play it deserves? Email me to let me know and I'd be THRILLED to have you post about it here! Especially if its something I haven't reviewed yet - that's even better (but not necessary)! If you're interested email me:
Goldilox3weres@hotmail.com


Read This F@!%ing Book Post 8:
(Click cover for Goodreads)
(Click title for Amazon)
Renegade (The Elysium Chronicles #1)
Why I Love It:
I just recently read RENEGADE by debut author J.A. Souders and absolutely loved it! This book reads like a dystopian fantasy with a sci-fi side and centers on a girl living in an underwater utopian city under the thumb of a super scary guardian. The story is very fast-paced and exciting and I was on the edge of my seat the whole time! Souders combines physical action with a psychological edge to really pull the reader into the world she created. The two main characters, Evelyn and Gavin, are very likable and their YA romance is believable with just the right amount of steam. And the fantastic conclusion left me wishing hoping praying for the sequel to come sooner rather than later.
Why I'm Pushing It:
I saw a lot of discussion about the gorgeous cover of RENEGADE prior to the book's release, but since it came out very few readers and bloggers I know have gotten around to actually reading it. Plus, the cover, beautiful as it is, is slightly misleading. This book has a surprising amount of violence and grit to it for a YA book with a pretty blond girl on the cover. While the cover reflects the utopia that Evelyn's city, Elysium, is supposed to be, the story shows us the secrets and horrors behind the scenes.
HOLY MOTHER!
In RENEGADE, the villain is a gloriously evil woman whom everyone calls 'Mother'. She runs the city with an iron fist, determined to keep her city peaceful and elite - whatever the cost. She has regulated every aspect of Evelyn's life using a mind controlling drug that has taken away pieces of Evie bit by bit. Mother is behind all the atrocities Evie faces throughout the story and she is one seriously scary lady!
I highly recommend you give this book a try! You have plenty of time to catch up, since the sequel, RENEGADE, doesn't release until the Fall.
For more info, you can read my review of
Renegade
HERE.
Have you read this book? What are your thoughts?
Did I persuade you to add the book to your TBR mountain?
Let me know in the comments below!
This feature has been nominated!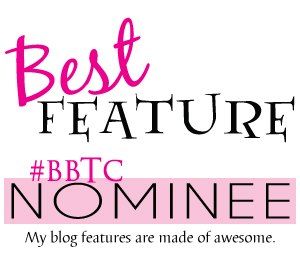 Like this feature?
You can VOTE HERE!