I'm trying something new this month and cross-posting the entire review on Instagram. Look for two posts, one for each box, during the day today. Or, you know, just read it all now. Let me know which format you prefer for unboxings.
The December Owlcrate theme was Seize the Day.
The items in the box, which are all Owlcrate exclusives, are supposed to inspire you to take on the new year.
The box contained a Harry Potter-inspired tote bag designed by @bookwormboutique. I'm so excited about this color because I've only ever gotten black totes in boxes before. It's also a bit bigger than my other totes and the fabric is a nice weight. Plus you can never have too much Harry Potter.
Probably my favorite item in the box is the custom weekly planner designed in collaboration between OwlCrate and @bluestarpress. There are a few pics of it on my Instagram already and you'll see more in an upcoming blog post.
I'm also loving the Dreaming Tree candle from @novellyyours. It has a crisp apple scent and such great color.
And I love the way the double-sided bookmark ties in to the color story. It has quotes from The Serpent King (green side) and The Perks of Being a Wallflower (blue side) and was designed by @littleinklingsdesign.
I love the colors on the Percy Jackson magnet designed by @inkandwonder.designs. Mine has a little nick on the bottom which kind of sucks though.
The wooden ornament inspired by Everything Everything isn't getting packed up with the Christmas decorations so you'll probably see it again on Bookstagram soon. It was created by @juniperandivydesigns.
The book is Foolish Hearts by Emma Mills. It has an exclusive cover, which also matches the color theme, and if you take the jacket off the design is repeated on the book itself. It came with a letter, a signed bookplate and a patch. I don't always get into YA Contemps, but this one sounds really good. It's about a girl in her high school production of A Midsummer Night's Dream.
The December Whimsify theme was
Ruthless.
It includes items inspired by favorite villains and anti-heroes.
This month's candle is Lady of Casterly Rock inspired by Cersei from Game of Thrones and created by @flickeringfandoms.
I love the idea of The Darkling bubble bar by @geekandwonder. It's kind of a cross between a bath fizzy and a bubble bath. This one smells really good too. It's Woods and Amber, Vanilla, Apricot and Berries.
I love the 'Monster Melter' hot cocoa mix from @faithfullycharmed23. Such a cute way to package hot chocolate. I haven't tasted it though because I need it for the photo challenge.
You've already seen the exclusive quote bookmark by @littlepapermama inspired by Ronan from The Raven Cycle on Instagram. This is one of the series I hope to read this year because all my bookish friends love it.
I'm not totally sold on the Shatter Me-inspired Warner print by @dasstark . Does anyone else think he looks like Robert Patinson?
I do love the Delores Umbridge 'I Must Not Tell Lies' button by @ohsogeeky. It looks like a pink doily which is pretty perfect for her.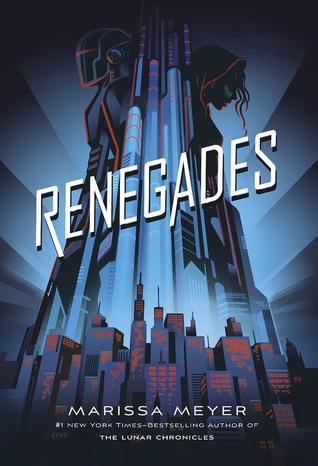 The book is Renegades by Marissa Meyer. I'm a little bit disappointed that there are no extras included with the book, like bookmarks or postcards or buttons. But this is a much bigger book (by a best-selling author) than has been in the previous boxes. And I am really excited to read it.
Did you see our Follower Feedback Survey?
Check out yesterday's post to answer a few questions to help us improve the blog and enter to win a gift card.